Overview
Standard aluminium is a good conductor of heat and cold meaning that you can lose or gain a great deal of heat through the frame of the window/door. This can ultimately undermine the performance of double glazed windows. The most common technique for insulating aluminium profiles is insulation with Polyamide Strips. The inner and outer chambers of the profile are connected with two fibre-glass reinforced insulating polyamide strips. The wider the strips, the higher the insulation factor.
Thermally Broken aluminium windows and doors use Thermal Barrier, also been called as Thermal Strut or Thermal Break to improve insulation and energy efficiency. These days, the thermal barrier conducts up to 533 times less heat than aluminium, so it provides a tremendous reduction in heat loss and increases thermal performance. It also has the side effect of making your windows more soundproof, by dampening vibrations between the outer and inner frame.
Kronos Precision Extrusion is an innovative Singapore-Germany joint venture which specializes in developing and manufacturing Thermal Insulating Polyamide Profiles with Cutting-Edge High Precision Thermoplastic Extrusion process and techniques. We offer a range of standard and custom-made extruded profiles from Virgin Polyamide 66/Polyamide 6 (PA66/PA6 or Nylon 66/Nylon 6) and other materials for aluminum windows, doors, facades, curtain walls, operating rods, solar panels, automotive sunroof blind rails, and various engineering applications.
Our polyamide profiles yield best-in-class thermal performance and exceeds not only current codes, but also exceeds every countries' stringent green building codes and standards in the market today.
Kronos Precision Extrusion prides itself on taking on challenging projects that others see as too difficult to accomplish. We are the experts at custom engineered plastic extrusion profiles, which are completed with superior customer service and dedication to quality and high precision. We offer unique capabilities and a quick turn-a-round time in order to meet your plastic extrusion demands efficiently and effectively.
Product Name: Thermal Insulation Polyamide Profiles for Aluminum Windows and Doors, Thermal Break Polyamide Strips, Thermal Barrier Polyamide Profiles, Thermal Struts

Manufacturer: Kronos Precision Extrusion
Kronos Extrusion Model No.: 280T01
Main Material: Virgin Polyamide PA66 + 25% Pure Glass Fiber
Processing: High Precision polyamide extrusion
Profile Width: 28mm
Standard Length: 6 meters/piece or as per customers' requirements
Profile Density: 1.30 ± 0.05 g/cm³
Shore Hardness: 80
Polyamide Strips Color: Black
Marking: Standard Laser Marking, or Customized
Standards: European Standard EN 14024:2004 & Chinese GB/T 23615.1-2017
Kronos Extrusion Certification: IATF 16949:2016
Applications: Aluminium Profiles, Thermally Broken Aluminum Doors & Windows, Energy Efficient Buildings, Passive House, Sustainable Buildings, Passive Windows etc.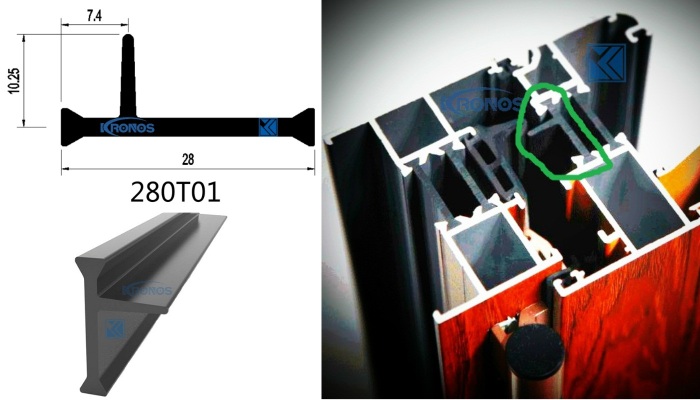 Why Kronos Precision Extrusion?
1. We have the Top-Notch thermoplastics extrusion experts, process, know-how, and techniques.
2. We develop and supply High Precision plastic profiles with Tight Tolerance.
3. State-of-the-art extruding machinery with our own Optimization.
4. Own Know-How Proprietary Design for all dies to ensure Outstanding Quality & Precision.
5. Wide and Intricate plastic profiles extrusion capabilities.
6. Raw Material: Virgin Polyamide 66 (Nylon 66) and Pure glass fibers, Virgin Polyamide 6 (Nylon 6) etc.
7. U-Value Calculation Service Provided
8. Decades of experiences and expertise in optimization for thermal insulating zones.
9. Competitively Priced
10. On-Time Delivery
The Quality of Kronos's PA66GF25 Thermal Insulation Polyamide Profiles is Impeecable.

Kronos's thermal insulation polyamide profiles are subject to a rigorous inspection process prior to delivery.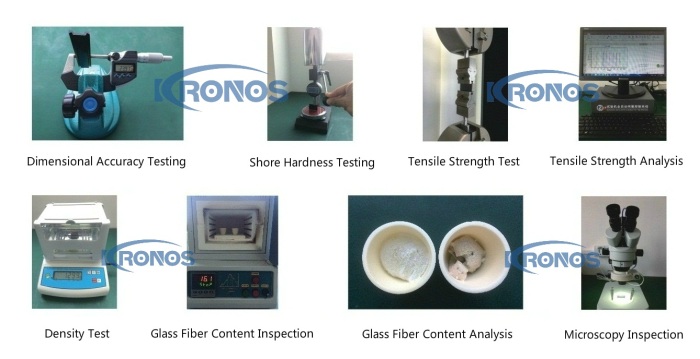 High Precision Extruded Thermal Insulation Polyamide Profiles (PA66 GF25) ready for delivery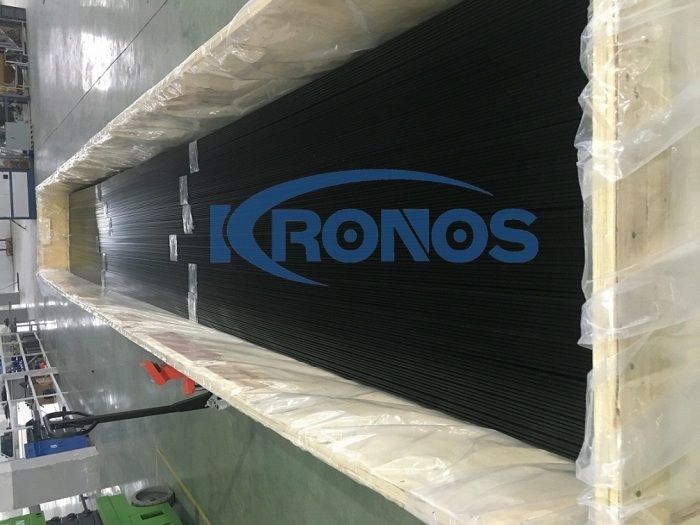 Exchange of Know-How-The Milux Windows and the Kronos Precision Extrusion Team