Overview
Within the automotive sunroof mechanism, Slide Rails are used to guide the glass panel and open/close the car sunroof. It requires a robust, high-precision solution for the smooth operation of the roof throughout the lifetime of the vehicle. Automotive is a fast-paced industry demands new ideas and solutions every day. The lighter of a vehicle, the further it can travel. Many automakers are striving to make their vehicles lighter for maximum efficiency.
Most of today's auto sunroofs slide rails are made of Aluminum which is heavy in weight and usually are noise during the open/close operation. Automotive sunroof manufacturuers such as Webasto, Inteva, Inalfa already use Light-Weight High-Precision Plastic Profiles to replace the heavy aluminum components for some roof modules because using lightweight, efficient plastic profiles instead of heavier metal components can help vehicle manufacturers to gain a competitive edge in many ways. However, the plastic materials must be corrosion-resistant, match their surround materials and reduce maintenance needs. These are where Kronos's Glassfiber-Reinforced Polyamide Vehicle Profiles come into play.
Kronos Precision Extrusion is an innovative Singapore-Germany joint venture that leads the way in developing and manufacturing Thermal Insulating Polyamide Profiles with Astonishing High Precision Thermoplastic Extrusion process and techniques. We offer a range of standard and custom-made extruded profiles from Virgin Polyamide 66/Polyamide 6 (PA66/PA6 or Nylon 66/Nylon 6) and other materials for constructional, commercial, institutional, automotive, and engineering applications.
Kronos makes plastics better than metal. We grew with our customers by continuously adapting our processes and products to meet every single individual demands. As a result, we are proud to offer outstanding technical characteristics that go far beyond the ordinary. Extremely Smooth Surfaces, Uniquely Sharp Contours, Impressive Low Tolerances, Outstanding High Precision, these are the words used by our clients to describe kronos's polyamide profiles.
Made from hard-wearing Polyamide 66 (PA66 or Nylon 66) with 25% Fiberglass Reinforcement, Kronos's polyamide slide rails feature excellent sliding capacity and durability with a material that is about 50% Lighter than the traditional aluminum slide rails. Thanks to our high-end extrusion methods, expertise, and technical know-how, which guarantees the production of extreme smooth surfaces and exact contours despite the fiberglass reinforcement. Our high precision extruded polyamide slide rails offer Silent, Lubricant-Free and Smooth movement. Free from burrs and defects, Kronos's Fully-Customizable automotive sunroof slide rails can be quickly integrated and installed for optimum performance and the highest levels of customer satisfaction.
Kronos has a great passion for plastics solutions. Our friendly and professional team is committed to ensure you're happy not only with the product you choose, but also the service you receive from everyone at Kronos Precision Extrusion. We listen to what our customers request of us, addressing these needs, always aiming to surpass your expectations.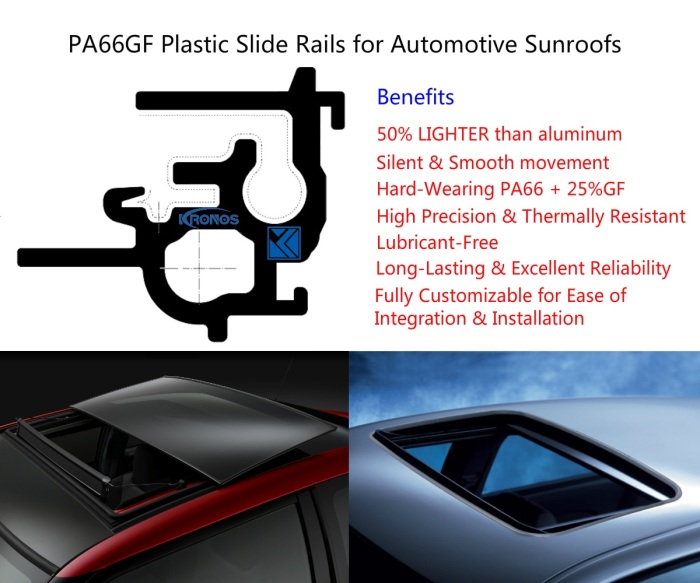 Product Name: Lightweight Fiberglass Reinforced Polyamide Slide Rails/Blind Rails for Automotive Sunroofs

Manufacturer: Kronos Precision Extrusion
Kronos Extrusion Model No.: S04
Main Material: Virgin Polyamide PA66 + 25% Pure Glass Fiber - PA66 GF25
Processing: High Precision polyamide extrusion
Standard Length: 6 meters/piece or customized
Profile Density: 1.30 ± 0.05 g/cm³
Shore Hardness: 80
Polyamide Slide Rail Color: Black
Standards: European Standard EN 14024:2004 & Chinese GB/T 23615.1-2017
Kronos Extrusion Certification: IATF 16949:2016
Benefits of high precision extruded Polyamide Slide Rails/Blind Rails/Guide Rails for Automotive Sunroofs:
Lightweight - it's about 50% lighter than traditional aluminum slide rails

Silent - Offer quiet movement and operation

Smooth - Offer Lubricant-Free movement

Long-Lasting, Highest Precision with Excellent Reliability & Stability

Hard-Wearing - Virgin Polyamide 66 with 25% Fiberglass Reinforcement guarantees the strength

Thermally Resistant

Maintenance-Free


Fully-Customizable - Ease of Integration and Installation for the Auto Sunroofs manufacturers
World-Class technical know-how and rich experience in high precision thermoplastics extrusion & fabrications allows Kronos experts to work closely with your design team to meet your most critical needs. The Kronos engineering team delivers prototypes quickly once your design is finalized. Kronos Precision Extrusion understands the importance of hitting critical timelines for new product development projects. Therefore, we offer a quick turnaround to help speed up your process development to ensure you hit your project milestones on time.

Impossible - you'll probably never hear that word from Kronos. Because plastic extrusion is very easy if you have the right tools. They are the centerpiece of our work, and the very heart of your projects. All the tools/molds are fully designed and manufactured by our own highly-professional engineering experts and material specialists. This allows you to rely on the fantastic high precision and consistent quality. And this also allows us to push the limits of plastic extrusion. Sometimes far beyond what's possible. To us, extrusion means more than just transforming granules – it means shaping the future.

Kronos Precision Extrusion is listening to it's customers' requirements and understands their specific concerns and needs. We are able to provide "ALL" professional services during the entire process of the Product Development Cycle with customer suitable "Turn Key" Solutions.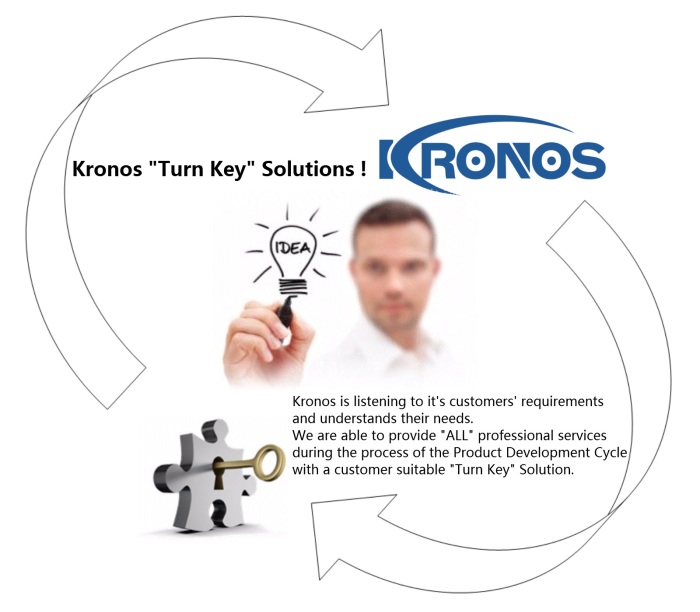 Kronos Precision Extrusion drives the automotive industry forward with efficiency. Our High Precision lightweight plastic vehicle profiles help to make automobiles more efficient and are an essential factor when it comes to constructing the cars of the future. Our manufacturing capabilities span a broad range of products and thermoplastic polymers which makes us the perfect partner for all of your standard and tailor-made high precision thermoplastic profiles extrusion needs.
Contact us Today to see how we can support your business.