Overview
The lighter of a vehicle, the further it can travel. To keep up with the trend and future, more and more automakers turn their attentions to make their vehicles lighter for maximum efficiency. Using lightweight, plastic profiles instead of traditional heavier metal components can help vehicle manufacturers to gain a competitive edge.
Taking the automotive sunroofs slide rails/blind rails for example. Within the auto sunroof mechanism, slide rails are used to guide the glass panel and open/close the car sunroof. It requires a robust, high-precision solution for the smooth operation of the roof throughout the lifetime of the vehicle. Most of today's auto sunroofs slide rails are made of aluminum which is heavy in weight and usually are noise during the open/close operation. Choosing Kronos's Glassfiber-Reinforced Polyamide Slide Rails for your vehicle sunroofs is a WISE choice and the future.
Kronos Precision Extrusion is a Singapore-Germany joint venture which specializes in developing and manufacturing Thermal Insulating Polyamide Profiles with Astonishing High Precision Thermoplastic Extrusion process and techniques. We offer a range of standard and custom-made extruded profiles from Virgin Polyamide 66 (PA66 or Nylon 66) and other materials for constructional, commercial, institutional, automotive, and engineering applications.
Made from hard-wearing Polyamide 66 (PA66 or Nylon 66) with 25% Fiberglass Reinforcement, Kronos's polyamide slide rails feature excellent sliding capacity and durability with a material that is about 50% lighter than the traditional aluminum slide rails. Thanks to our high-end extrusion methods, expertise, and technical know-how, which guarantees the production of extreme smooth surfaces and exact contours despite the fiberglass reinforcement. Kronos's plastic slide rails feature Smooth, Lubricant-Free and Alomost-Mute movement. Free from burrs, Kronos's Fully-Customizable automotive sunroof plastic slide rails can be quickly integrated and installed for optimum performance and the highest levels of customer satisfaction.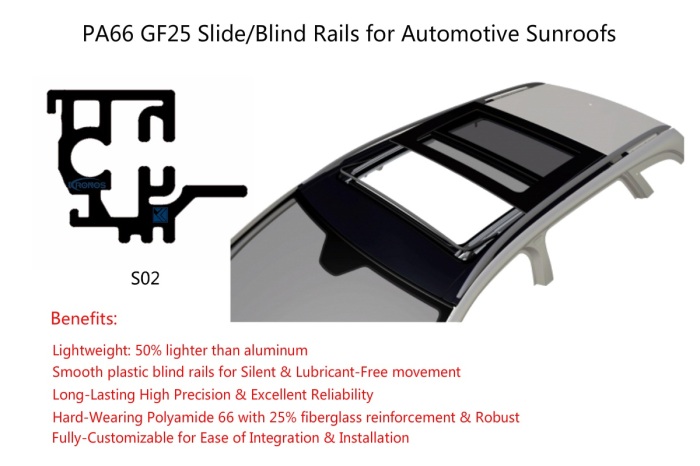 Product Name: Fiberglass Reinforced Polyamide Slide Rails for Automotive Sunroofs, Plastic Vehicle Profiles

Manufacturer: Kronos Precision Extrusion
Kronos Extrusion Model No.: S02
Main Material: Virgin Polyamide PA66 + 25% Pure Glass Fiber - PA66 GF25
Processing: High Precision polyamide extrusion
Standard Length: 6 meters/piece or customized
Profile Density: 1.30 ± 0.05 g/cm³
Shore Hardness: 80
Polyamide Profiles Color: Black
Standards Carried: European Standard EN 14024:2004 & Chinese GB/T 23615.1-2017
Kronos Extrusion Certification: IATF 16949:2016
Benefits of High-Performance Polyamide Slide Rails for Automotive Sunroofs:
Lightweight - 50% lighter than aluminum slide rails

Silent - Offer Almost-Mute movement and operation

Smooth - Offer Lubricant-Free movement

Long-Lasting, High Precision with Excellent Reliability

Hard-Wearing - Virgin Polyamide 66 with 25% Fiberglass Reinforcement guarantees the strength

Stable and Thermally Resistant - Less fuel needed for the air-conditioning


Reduce Odor Formation - keep the inside air always Pleasant

Maintenance-Free


Fully-Customizable - Ease of Integration and Installation for the Auto Sunroofs manufacturers



Our extensive experience in high precision plastics extrusion & fabrications allows us to work closely with your design team to meet your most critical needs. The Kronos engineering team delivers prototypes quickly once your design is finalized.
Our world-class high precision extrusion specialists' highly-professional expertise and technical know-how in new product development of thermoplastic extrusions, which ensures us to be flexible and quickly adaptable to meet your specific needs. Kronos can do the extrusions others say can't be done. Our manufacturing capabilities span a broad range of products and thermoplastic polymers which makes us the perfect partner for all of your standard and tailor-made high precision thermoplastic profiles extrusion needs.

Kronos Precision Extrusion is listening to it's customers' requirements and understands their specific needs. We are able to provide "ALL" professional services during the entire process of the Product Development Cycle with customer suitable "Turn Key" Solutions.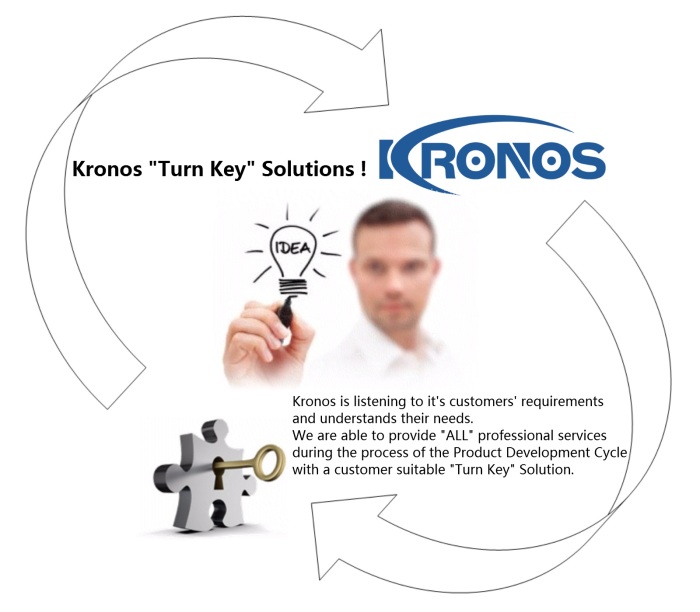 Kronos Precision Extrusion drives the automotive industry forward. Our lightweight plastic profiles help to make vehicles more efficient and are an essential factor when it comes to constructing the cars of the future.