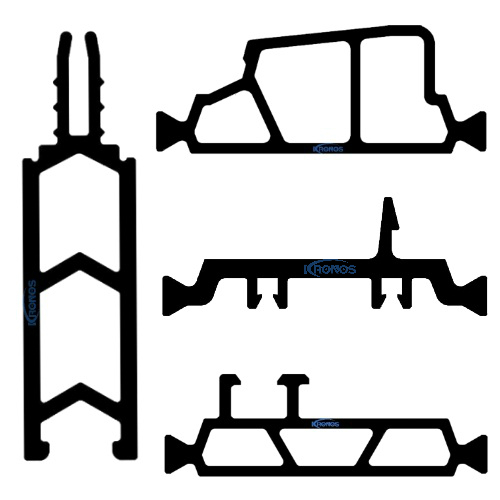 High Precision Extrusion Capabilities of All Types of Wide & Intricate Polyamide Profiles
As a key component of aluminum alloy doors and windows, the polyamide strip not only functions as the essential thermal insulation part, but also is the structural part, which carries the performance requirements of mechanical joint, stress, precision and durability.

Kronos Precision Extrusion is an innovative Singapore-Germany joint venture that specializes in developing and manufacturing Thermal Insulating Polyamide Profiles with Cutting-Edge High Precision Thermoplastic Extrusion process and techniques. We offer a range of standard and custom-made extruded profiles from Virgin Polyamide 66 (PA66 or Nylon 66) and other materials for constructional, commercial, institutional, automotive, and engineering applications.

With state-of-the-art machine, technology, process, and know-how, Kronos's polyamide products perform perfectly in terms of mechanical properties, dimensional accuracy, shape accuracy and complex cavities.

Kronos Precision Extrusion
thrives upon
Wide
and
Intricate
polyamide extrusions that challenge today's extrusion capabilities. If you buy
Thermal Break Polyamide Profiles
from Kronos, you'll immediately know just how accurate they are and how precisely they fit together with the aluminum frames.
Δ Comparison of internal structure of Polyamide Strips




Δ The Impact of Polyamide Strips Head Parallelism on Composite Profiles



Kronos's
High Precision Extrusion
capabilities are very well represented as thermal insulation requirements continue to increase with larger width and higher-complexity Polyamide Strips. Do you have a challenge for us?