In recent years, housing development has ballooned in China as its economy has developed. Since 1978, the government has promoted the commercialization of housing in urban areas. Property development has become big business in China, with new cities and suburbs springing up with new apartments.
As the United States was withdrawing from the Paris climate pact, China's energy saving ambitions were being reflected in the launch of the latest
GB/T 23615.1-2017
Standard - Thermal barrier materials for architecture Aluminium alloy extruded profiles—Part 1: Polyamide profiles.
Energy-Saving Housing Required in China
All new residential and commercial buildings in China to be constructed from now on have to be energy economic as China aims to accommodate citizens and save energy. The country will launch its first industrial regulation on energy-saving construction, according to which all local residences to be built from 2019 on must meet the energy economic standard.
The rapid economic growth and poor utilization efficiency exacerbate the already strained energy supply, said Lin Yingqing, deputy director of the Shanghai Municipal Housing & Land Resources Bureau. We are determined to reduce energy consumption of local residences to make contributions to Shanghai's ambition to foster an energy-saving society, he added.

The launch of the latest GB/T 23615.1-2017 standard is absolutely a good thing because it benefits the housing and building owners greatly by cutting their power bills dramatically, but many thermal insulation polyamide profiles extruders are like cats on hot bricks because very few of them are capable of passing this latest standard. These thermoplastics extruders get used to produce very bad quality polyamide strips (using recycled materials) at cheap prices, but now they are struggling to find solutions.

Is this new standard really too demanding? The answer is YES.Only two companies across the globe can meet all the requirements of GB/T 23615.1-2017 standard and Kronos Precision Extrusion is one of them.

Kronos Precision Extrusion leads the way in developing and manufacturing Thermal Insulating Polyamide Profiles with Cutting-Edge High Precision Thermoplastic Extrusion process and techniques. We offer a range of standard and custom-made extruded profiles from Virgin Polyamide 66 (PA66 or Nylon 66) and other materials for constructional, commercial, institutional, automotive, and engineering applications.

Kronos® is Synonymous with premium quality insulating polyamide profiles which are used for the thermal separation of aluminum profiles from the outer and inner shell of window, door and facade constructions. Our insulation profiles are extremely efficient at preventing energy losses in buildings and enable outstanding Uf values up to conformance with the stringent Passive House standard.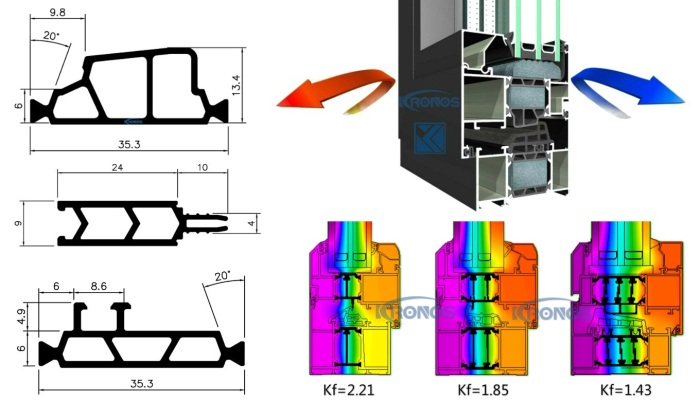 Kronos Precision Extrusion thrives upon Wide and Intricate polyamide extrusions that challenge today's extrusion capabilities. Our system design and manufacturing capabilities span a broad range of products and thermoplastic polymers which makes us the perfect partner for all of your high precision standard and tailor-made thermoplastic profiles extrusion needs.


Contact the Kronos Precision Extrusion team Today and find out how we can support your business.