In High Precision Polyamide Extrusion, Kronos Excels.
Kronos Precision Extrusion is an innovative Singapore-Germany joint venture which specializes in developing and producing Thermal Insulating Polyamide Profiles with Cutting-Edge High Precision Thermoplastic Extrusion process and techniques. We offer a range of standard and tailor-made extruded plastic profiles from Virgin Polyamide 66/Polyamide 6 (PA66/PA 6 or Nylon 66/Nylon 6) for constructional, commercial, institutional, and engineering applications.

Kronos has the TOP-NOTCH thermoplastics extrusion experts, Cutting-Edge extruding machinery, and Tried-and-Tested technical know-how. We have our own know-how proprietary design for all of our dies to ensure our product World-Class Quality and Precision. Kronos's dies are fully designed and made as per German Standards.





Kronos® is Synonymous with premium quality insulating polyamide profiles which are used for the thermal separation of aluminum profiles from the outer and inner shell of window, door and facade constructions. Our insulation profiles are extremely efficient at preventing energy losses in buildings and enable outstanding Uf values up to conformance with the stringent Passive House standard.

Kronos extrudes polyamide/thermoplastics profiles in a wide range of sizes and shapes, with our specialization and expertise lying in working with virgin plastic materials. Our highly-experienced experts can quickly evaluate your fabrication requirements and extrude your custom plastic products. Extrusion services for both prototype as well as large volume production runs are handled with Extremely High Precision & Tight Tolerance.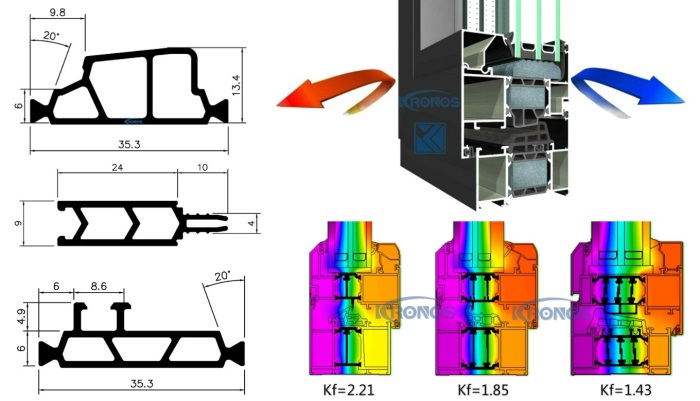 Our rich experience in high precision polyamide extrusion & fabrications allows us to work closely with your design team to meet your most critical needs. The Kronos engineering team delivers prototypes quickly once your design is finalized. With decades of expertise and know-how in new product development of thermoplastic extrusions, this ensures us to be flexible and quickly adaptable to meet your specific needs.

Kronos Precision Extrusion thrives upon Wide and Intricate polyamide extrusions that challenge today's extrusion capabilities. Extrusions others say Can't Be Done are usually just Easy Jobs for Kronos. Our system design and manufacturing capabilities span a broad range of products and thermoplastic polymers which makes us the perfect partner for all of your high precision standard and tailor-made thermoplastic profiles extrusion needs.

Contact the Kronos Precision Extrusion team Today and find out how we can support your business.