Overview
Aluminium windows, doors, and facades are a popular choice for many homeowners and commercial buildings across the globe. Particularly favoured for their slim sightlines, minimal and modern appearance, aluminium windows are extremely low maintenance, as well as incredibly strong and corrosion resistance preventing them from rotting or warping. However, aluminium is not a natural insulator, which means the valuable warmth within your home would escape if your windows were solely constructed from aluminium.
Standard aluminium is a good conductor of heat and cold meaning that you can lose or gain a great deal of heat through the frame of the window/door/facade. This can ultimately undermine the performance of double glazed windows. A Thermal Break needs to be added to the frame. Thermal break technology features a reinforced Polyamide Strips (PA66GF25) between the inside and outside aluminium profiles, creating an insulated barrier within the window frame. This will conduct heat, cold and noise hundreds of times slower than standard aluminium.
Most of today's aluminium windows, doors, and facades are thermally-broken using polyamide strip to insulate aluminium frames against heat loss. Aside from energy savings, the polyamide insulation profiles also raise the internal temperature of a house, helping to reduce the risk of condensation effectively.
Kronos Precision Extrusion is an innovative German company that leads the way in developing and producing Polyamide Insulating Profiles with Cutting-Edge plastic extrusion techniques. We offer a wide range of standardized and individually-tailored fiber glass reinforced plastic profiles from Virgin Polyamide 66/Polyamide 6(PA66/PA6 or Nylon 66/Nylon 6) for aluminum windows, doors, facades, curtain wall systems, operating rods, solar panels, automotive sunroof blind rails, conveyor guide rails, automation, and various engineering applications. We set the standard for unsurpassed quality, innovation and outstanding performance in thermoplastic profiles extrusion.
Our polyamide profiles yield best-in-class thermal performance and exceeds not only current codes, but also exceeds every countries' stringent green building codes and standards in the market today. We offer you various custom material properties that you would never have expected from a plastic solution.
Polyamide insulating profiles production with undisputable quality and precision, hundreds of satisfied customers have trusted us while using our products. Kronos's High Efficiency polyamide insulating profiles set new standards in thermal separation, permit excellent U values and are absolutely the first choice in low-energy and passive buildings.
We pride ourselves on being able to supply very wide and complex shapes. Our team are always here to help no matter what your requirements so please do not hesitate to contact us if you want to discuss your options or have a particularly difficult thermoplastic extrusion requirement or need.
Technical Specifications:
Product Name: Thermal Insulation Polyamide Profiles, Thermal Break Polyamide Strips, Polyamide Thermal Barrier Profiles, Thermal Break Polyamide Struts, Polyamide Insulating Profiles
Kronos Model No.: 450H01
Material: Virgin Polyamide 6.6 with 25% Pure Glass Fiber filled, PA66 GF25
Processing: High Precision Polyamide Extrusion
Polyamide Width: 45mm
Features: Hollow Chamber, Multi Cavity, Top-Notch Quality, High Precision, Extremely Smooth Surface etc
Standard Length: 6 meters/piece or customized
Profile Density: 1.30 ± 0.05 g/cm³
Shore Hardness: 80
Polyamide Strips Color: Black
Packaging: Lineal in plywood cases
Standards Carried: European Standard EN 14024:2004 & the latest Chinese GB/T 23615.1-2017
Applications: Thermally Insulated Aluminum Doors and Windows, Passive House Windows, Passive House Doors etc
Photo Gallery of Premium German Quality Hollow Chamber Polyamide Thermal Barrier Strips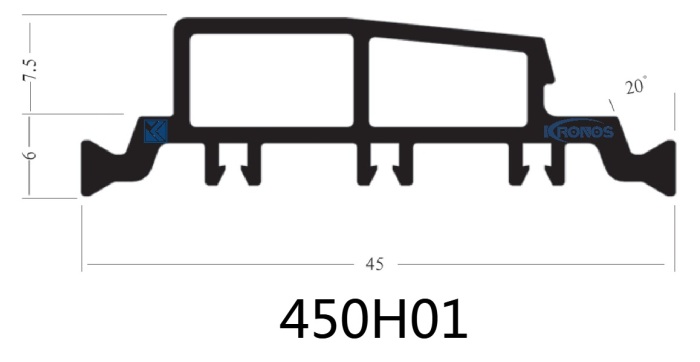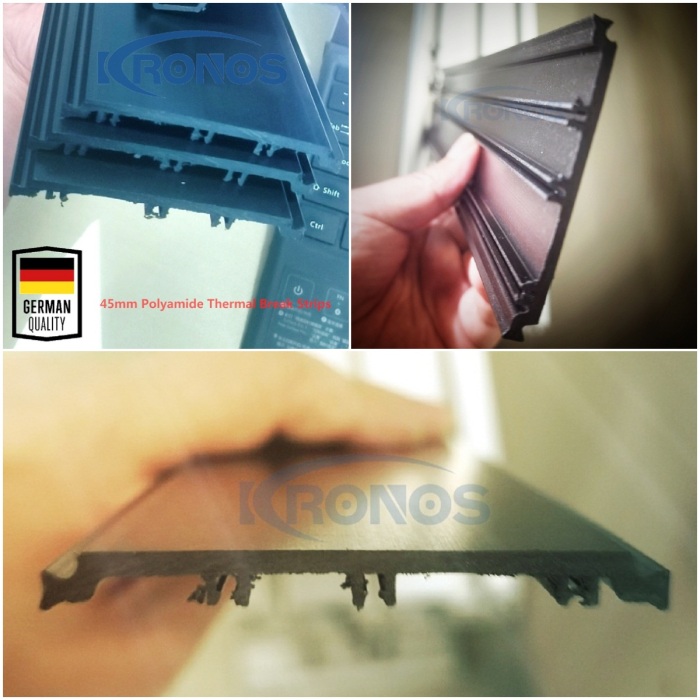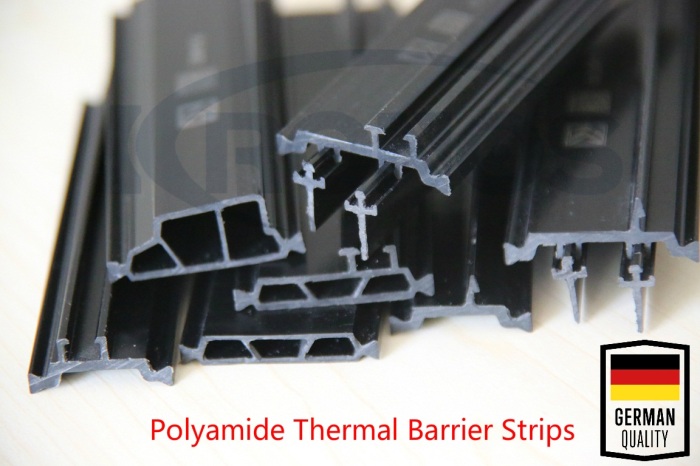 At Kronos, the imported virgin polyamide resins must be checked thoroughly.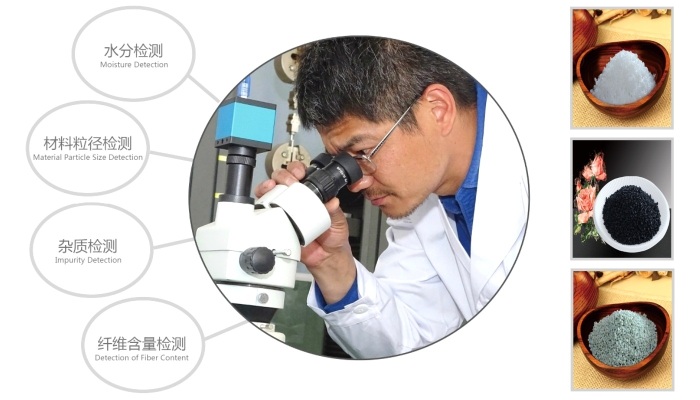 Kronos's Thermal Insulation Polyamide Profiles in Comparison with Others' Polyamide Profiles

All batches of Kronos's polyamide profiles are subject to a rigorous inspection process prior to delivery.
Kronos provides standard and custom Laser Marking for easier traceability and improved quality control, adding extra value to your products and company.
At Kronos Precison Extrusion, quality is not only a certification, but a philosophy and way of performing that tattooed in all Kronosian's heart. With this in mind, our team keeps in contact with the clients at all times, to make sure all the specifications and requirements are 100% fulfilled in the design and subsequent manufacturing process.
In addition, this is accompanied by a professional consulting service in order to meet all our clients' specific demands. We design and make all our dies as per German Standards and we monitor the whole extruding process, so all paperwork is continuously up-to-date.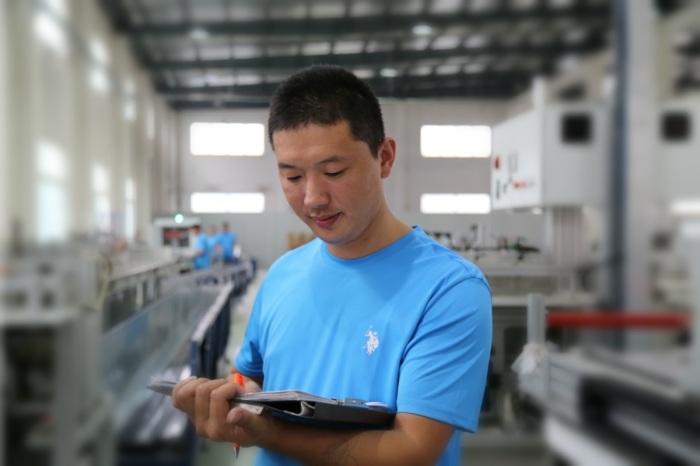 Standard PA66 GF25 Polyamide Thermal Break Strips in stock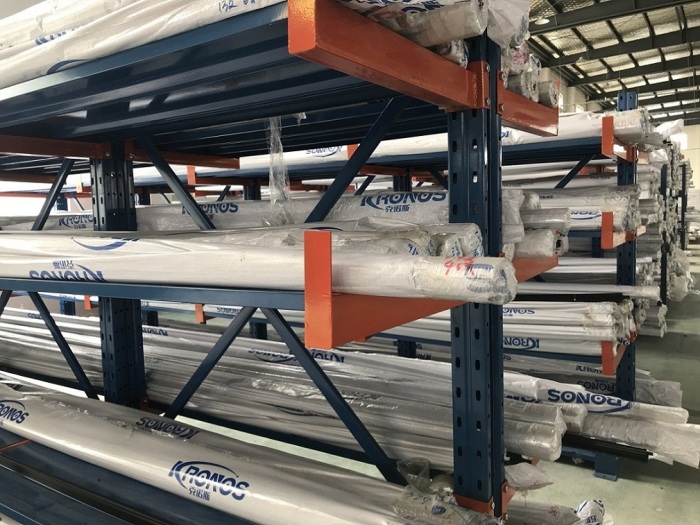 PA66 GF25 Thermal Break Polyamide Strips packed in fumigation-free plywood cases for delivery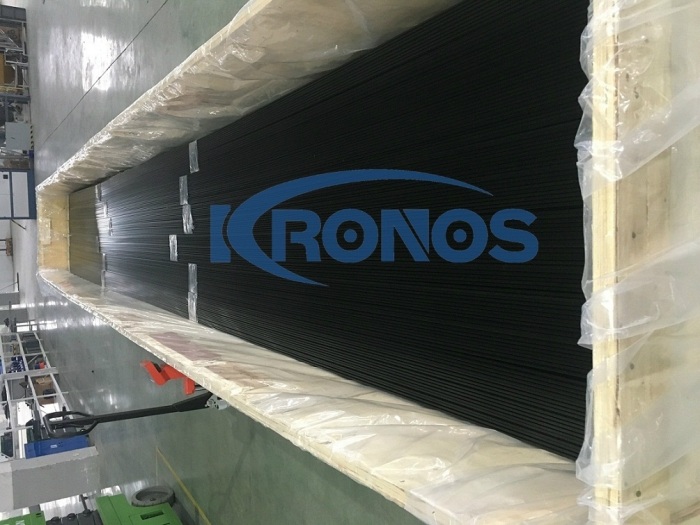 As you learn more about Kronos, you will discover that we are trying to achieve the same thing as you – PERFECTION.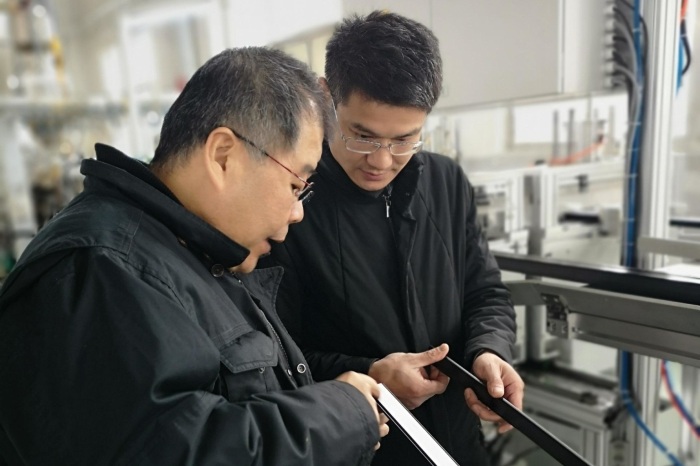 Kronos's Technical Team is Unbeatable in terms of Thermoplastics Extrusion techniques, Technical Know-How, and Insulation Optimization.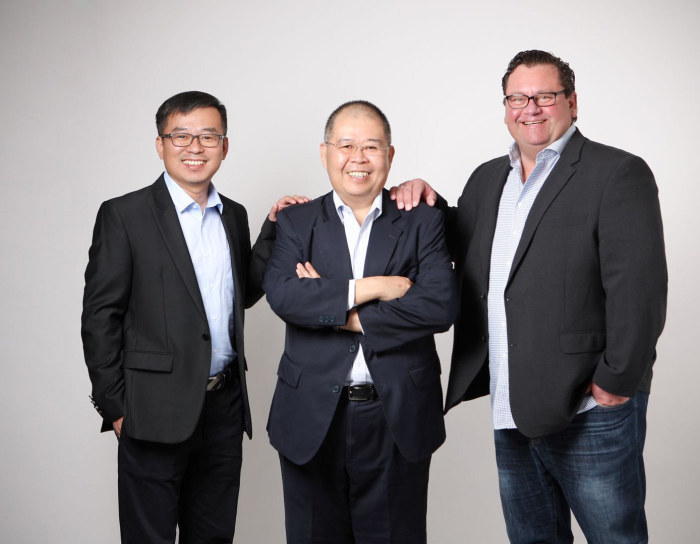 Whatever your thermoplastics extrusion challenges are, the friendly and professional experts of Kronos Precision Extrusion are here for YOU.