Overview
Photovoltaic solar panels absorb sunlight as a source of energy to generate electricity. This environmentally-friendly green device is increasingly gaining great popularity in both commercial and residential applications. However, most of today's solar panels components and accessories, such as mounting rails and mounting racks, are still made of heavy metals such as aluminum which is not a good option. Using Kronos's extruded polyamide profiles to replace the aluminum parts for solar panels is a wise choice and the unstoppable trend.
Kronos Precision Extrusion is an innovative Singapore-Germany joint venture that leads the way in developing and manufacturing Thermal Insulating Polyamide Profiles with Astonishing High Precision Thermoplastic Extrusion process and techniques. We offer a range of standard and custom-made extruded profiles from Virgin Polyamide 66/Polyamide 6 (PA66/PA6 or Nylon 66/Nylon 6) and other materials for aluminum windows, doors, facades, curtain wall systems, solar panels, automotive sunroof slide rails, conveyor guide rails, automation, and various engineering applications.
Kronos extrudes polyamide/thermoplastics profiles in a wide range of sizes and shapes, with our specialization and expertise lying in working with virgin plastic materials. Our highly-experienced experts can quickly evaluate your fabrication requirements and extrude your custom plastic products. Extrusion services for both prototype as well as large volume production runs are handled with Super-High Precision.
Kronos Precision Extrusion prides itself on taking on challenging projects that others see as too difficult to accomplish. We are the top experts at custom engineered plastic extrusion profiles, which are completed with superior customer service and dedication to quality and high precision. We offer unique capabilities and a quick turn-a-round time in order to meet your plastic extrusion demands efficiently and effectively.
Free from burrs and defects, Kronos's Fully-Customizable polyamide profiles for solar panels can be quickly integrated and installed for optimum performance and the highest levels of customer satisfaction. If you buy Polyamide Profiles from Kronos Precision Extrusion, you'll know just how accurate they are and how precisely they fit together with the aluminum frames and products.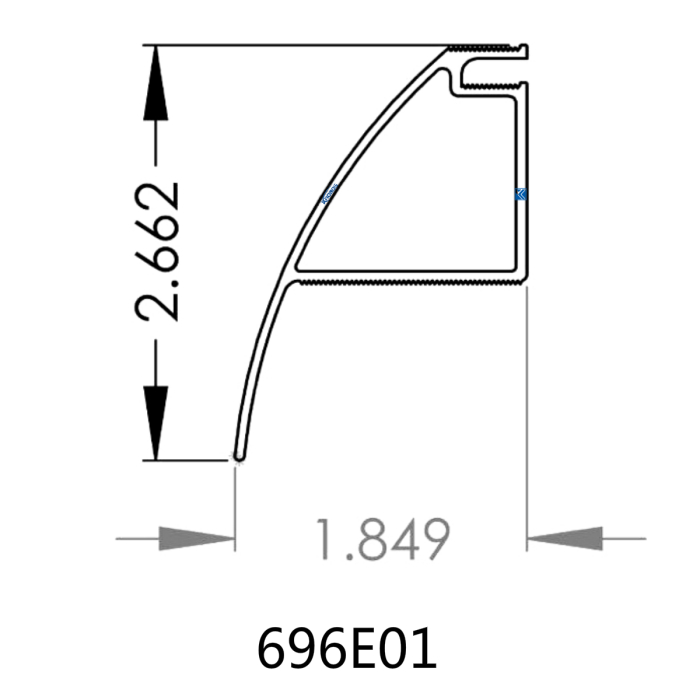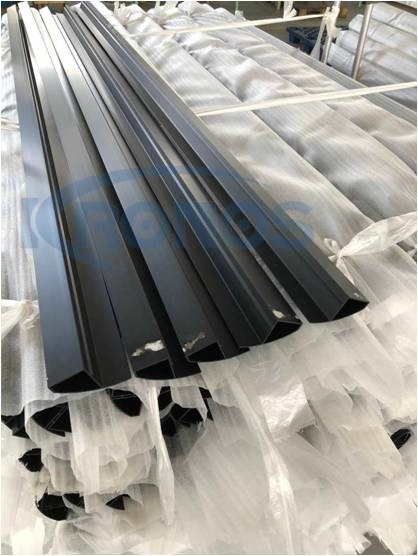 Product Name: Fiberglass Reinforced Polyamide Profiles for Solar Panels

Manufacturer: Kronos Precision Extrusion
Kronos Extrusion Model No.: 696E01
Main Material: Virgin Polyamide PA66 or PA6 + Pure Glass Fiber, or as per customers' requirements
Processing: High Precision polyamide extrusion
Standard Length: 6 meters/piece or as per customers' requirements
Shore Hardness: 80
Polyamide Profiles Color: Black
Standards: European Standard EN 14024:2004 & Chinese GB/T 23615.1-2017
Kronos Extrusion Certification: IATF 16949:2016
Applications: Solar PV Ground Mounting Rack, Solar Panel Bracket, Solar Ground Mount Rail, Frames etc

Benefits of High-Performance Polyamide Profiles for Solar Panels
Lightweight - 50% Lighter than aluminum parts

Extremely Smooth Surface

Long-Lasting, High Precision with Excellent Reliability

Wear Resistant - Virgin Polyamide 66 with Fiberglass Reinforcement guarantees the strength

Stable and Thermally Resistant


Corrosion Resistant

Electrically Insulated


Fully-Customizable - Ease of Integration and Installation for the Solar Panel manufacturers
In today's market, most manufacturers use recycled polyamide for their profiles which Kronos will never follow. At present, the world's highest requirements for energy-saving thermal barrier polyamide profiles is the latest Chinese GB/T 23615.1-2017 standard which Kronos can meet all the data requirements easily. By the way, only two companies in the world are capable of passing the GB/T 23615.1-2017 standard and Kronos is one of them.






Kronos Thermal Insulation Polyamide Profiles in Comparison with Cheap ones




At Kronos Precision Extrusion, all the Polyamide Profiles are subject to a Rigorous inspection process prior to delivery.




Our rich experience in high precision plastic extrusion & fabrications allows us to work closely with your design team to meet your most critical needs. The Kronos engineering team delivers prototypes quickly once your design is finalized. Kronos's specialists have extensive expertise and technical know-how in new product development of thermoplastic extrusions, which ensures us to be flexible and quickly adaptable to meet your specific needs.







Kronos Precision Extrusion thrives upon Wide and Intricate polyamide extrusions that challenge today's extrusion capabilities. We take pride in ourselves by taking on plastic extrusions others say Can't Be Done. Our system design and manufacturing capabilities span a broad range of products and thermoplastic polymers which makes us the perfect partner for all of your standard and tailor-made high precision thermoplastic profiles extrusion needs.




Exchange of Know - National Non-Ferrous Metals Inspection Officials Visiting to Kronos Precision Extrusion