Overview
Aluminium is massively used in the manufacturing of profiles for the building and construction industry in window, door, facade, and curtain wall systems. Αluminium frames are the ideal solution that will provide you with very robust doors and windows and, therefore, increased security and long-term durability, however aluminium frames are lacking when it comes to heat and sound insulation.
The thermal conductivity of aluminium alloy is 160W/M2.K, which makes it a very good conductor of heat. However, every nation's legislation and building codes are becoming stricter in terms of energy efficiency. The purpose is to reduce CO2 emissions and to save energy. Since aluminium is one of the best materials to make window and door frames, architects and engineers just simply love it. To solve this problem, a thermal break is required.
A Thermal Break, also known as Thermal Strut or Thermal Barrier, is an element of low thermal conductivity placed in an assembly to reduce or prevent the flow of thermal energy between conductive materials. The thermal conductivity of polyamide profile is only 0.3W/M2.K, which is 533 times less than that of aluminium, making it a perfect insulating material for thermally broken aluminum systems. Not only that, polyamides have very similar coefficient of expansion and contraction to aluminium. Polyamide Insulating Struts reduce internal aluminum frame stress effectively and will not separate over years of seasonal hot-cold cycles. Water and air will not penetrate this superior thermal barrier.
Kronos Precision Extrusion, which has for years been providing Thermal Insulation Solutions, is playing a significant role in enhancing the Thermal Energy Efficiency of buildings around the world with its high-performance and Thermally-Insulating Polyamide Insulation Strips for Thermal-Break aluminium frames. We set the standard for unsurpassed quality, innovation and outstanding performance in thermoplastic profiles extrusion.
Kronos thrives upon Wide and Intricate polyamide extrusions that challenge today's extrusion capabilities. We are capable of extruding wide and complex polyamide profiles which most extruders can not do. Our unique high-precision extrusion process enables us to form the most complex thermoplastics profiles. If you have a difficult extrusion challenge, call on the Kronos Precision Extrusion experts for a practical and effective solution. Just simply give us a blueprint and we will design and produce it for you in no time.
Polyamide insulating profiles production with undisputible quality and precision, hundreds of satisfied customers have trusted us while using our products. Kronos's High Efficiency polyamide insulating profiles set new standards in thermal separation, permit excellent U values and are absolutely the first choice in low-energy and passive buildings.
Technical Specifications:
Product Name: Thermal Insulation Polyamide Profiles, Thermal Break Polyamide Strips, Polyamide Thermal Barrier Profiles, Thermal Break Polyamide Struts, Polyamide Insulating Profiles

Manufacturer: Kronos Precision Extrusion
Kronos Article No.: 390H53
Material: Virgin Polyamide 6.6 with 25% Pure Glass Fiber filled, PA66 GF25
Processing: High Precision Polyamide Extrusion
Polyamide Width: 39mm
Features: Hollow Chamber, Multi Cavity, Top-Notch Quality, High Precision, Extremely Smooth Surface etc
Standard Length: 6 meters/piece or customized
Profile Density: 1.30 ± 0.05 g/cm³
Shore Hardness: 80
Polyamide Strips Color: Black
Packaging: Lineal
Standards Carried: European Standard EN 14024:2004 & Chinese GB/T 23615.1-2017
Applications: Thermally Insulated Aluminum Doors and Windows, Passive House Windows, Passive House Doors etc
Photo Gallery of Kronos's High Performance Polyamide Thermal Break Profiles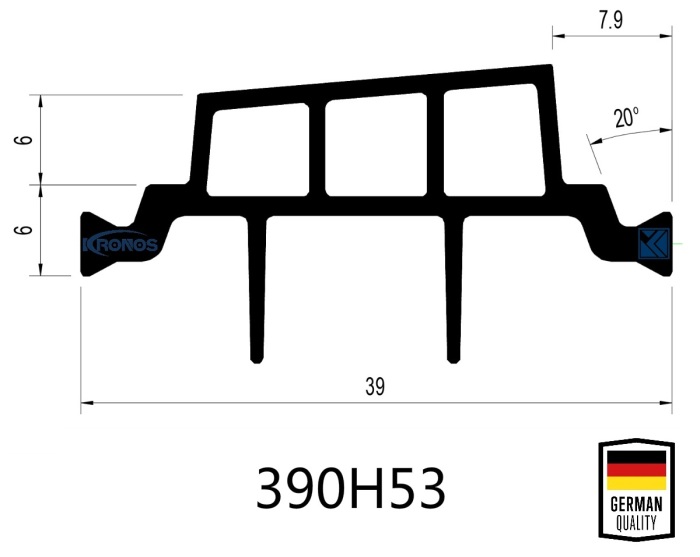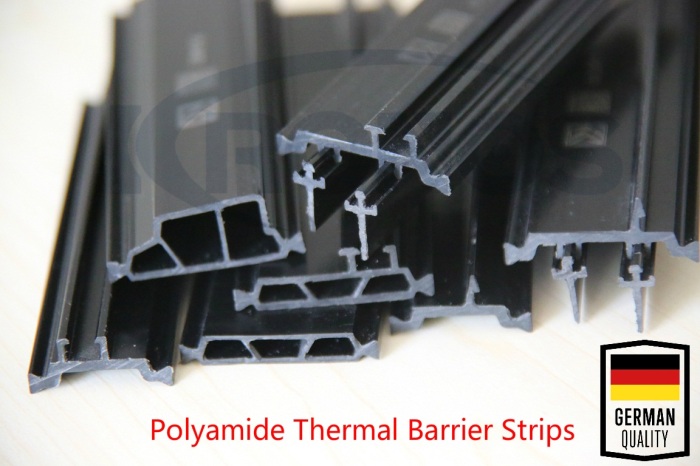 At Kronos, the imported virgin polyamide resins must be checked thoroughly.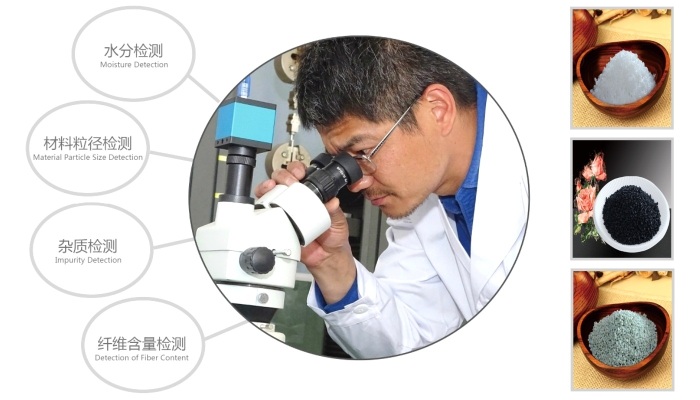 Kronos's Thermal Insulation Polyamide Profiles in Comparison with Others' Polyamide Strips

All batches of Kronos's polyamide profiles are subject to a rigorous inspection process prior to delivery.
Kronos offers standard and tailored Laser Marking for easier traceability and improved quality control, adding extra value to your products and company.
At Kronos Precison Extrusion, quality is not only a certification, but a philosophy and way of performing that tattooed in all Kronosian's heart. With this in mind, our team keeps in contact with the clients at all times, to make sure all the specifications and requirements are 100% fulfilled in the design and subsequent manufacturing process.
In addition, this is accompanied by a professional consulting service in order to meet all our clients' specific demands. We design and make all our dies as per German Standards and we monitor the whole extruding process, so all paperwork is continuously up-to-date.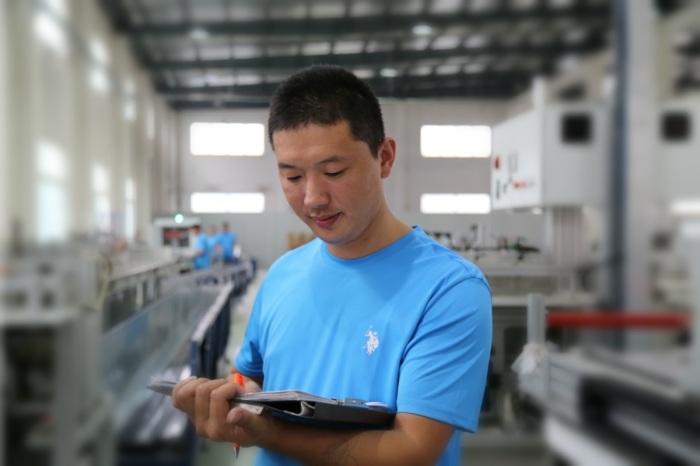 Standard PA66 GF25 Polyamide Insulating Profiles in stock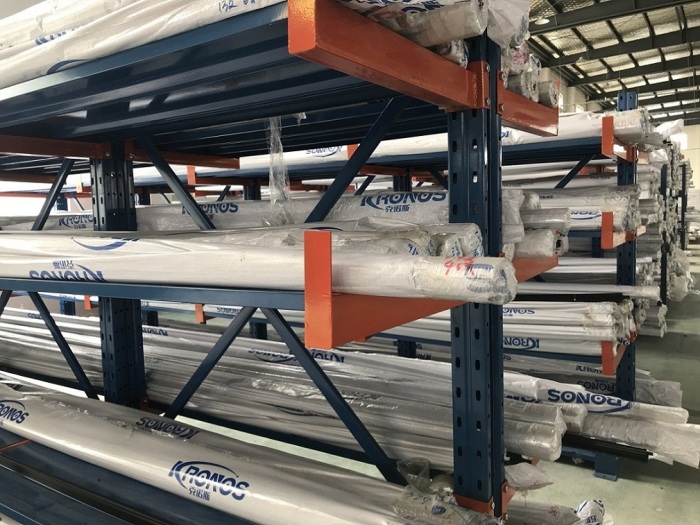 Glass Fiber Reinforced PA66 GF25 Thermal Break Polyamide Strips ready for delivery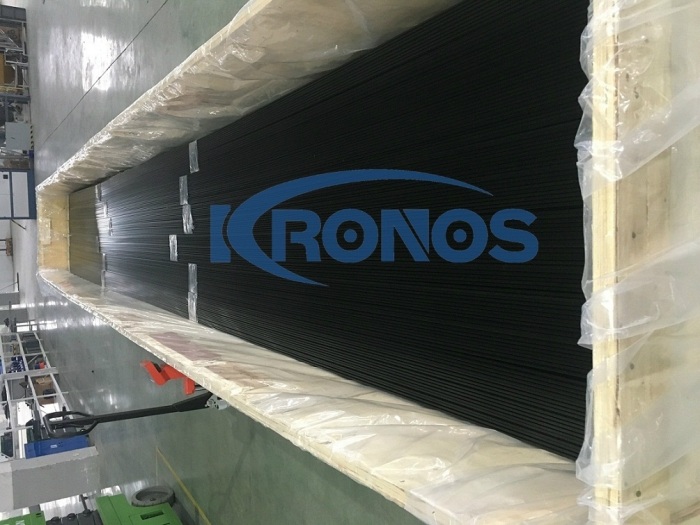 As you learn more about Kronos, you will discover that we are trying to achieve the same thing as you – PERFECTION.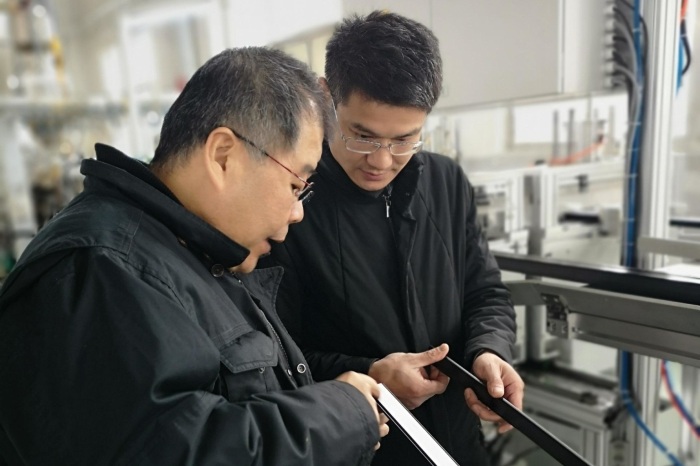 Whatever your thermoplastics extrusion challenges are, the friendly and professional experts of Kronos Precision Extrusion are here for YOU.