Most of today's thermally broken aluminum windows and doors consist of two separate extruded aluminum frames which are connected by fiberglass reinforced polyamide strips. By joining the profiles with an insulated polyamide strip, the thermally broken aluminum profile can provide up to 533 times more insulation than a non-thermally broken extrusion. This thermal barrier will improve thermal performance while retaining the structural durability of the fenestration unit.
Sometimes, depending on the configuration of both the window/door itself and its orientation, the Bi-Metal Effect can occur, i.e. the outer profile accumulates excessive heat compared to the interior because the polyamide profile is doing its job becoming deformed. This can cause some difficulty when closing windows or doors. These are where Kronos's innovative Anti Bi-Metal Solution come into play.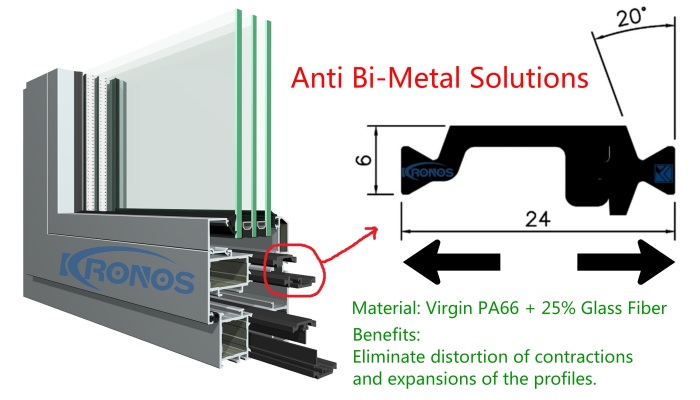 The
Bi-Metallic Effect
will occur when there is a big difference in temperature between the inner and outer frame of a window or door (e.g. exposure to intense sunlight). The outer frame expands and may cause distortion of the window or door and locking difficulties.
Kronos's original
Anti Bi-Metal polyamide insulation strip
adopts a unique design concept to combine two heat insulation strips in the form of slide rails. It works as a whole to ensure the transverse tensile force and will move together to compensate the changes caused by the temperature deviations between the inner and outer sides of the combined profiles, achieving the effect of offsetting the stress.
Our
Anti Bi-Metal Polyamide Profile
allows outer frame expansion by expansion of the polyamide profiles. It can effectively prevent warping caused by the differences in temperature between the outside and inside aluminum profiles. This fantastic solution will not affect the fit of the inner frame, meaning that your windows or doors will continue function as normal, as a result, allowing the closure to close easily.