Overview
Most of today's thermally broken aluminum windows and doors consist of two separate extruded aluminum frames which are connected by fiberglass reinforced polyamide strips(PA66+GF25). By joining the profiles with an insulated polyamide strip, the thermally broken aluminum profile can provide up to 533 times more insulation than a non-thermally broken extrusion. This thermal barrier will improve thermal performance while retaining the structural durability of the fenestration unit. A polyamide thermal barrier should provide all of the insulating properties that modern aluminium window and door systems require, but it can also provide a good deal more for some special applications.
Sometimes, depending on the configuration of both the window/door itself and its orientation, the Bi-Metal Effect can occur, i.e. the outer profile accumulates excessive heat compared to the interior because the polyamide profile is doing its job becoming deformed. This can cause some difficulty when closing windows or doors. These are where Kronos's Original and Innovative Patented design of Anti Bi-Metal Solution come into play.
The Bi-Metallic Effect will occur when there is a big difference in temperature between the inner and outer frame of a window or door (e.g. exposure to intense sunlight). The outer frame expands and may cause distortion of the window or door and locking difficulties.
Kronos's polyamide thermal break with anti bi-metal effect prevents the sash to perform banana effect at high temperature differences between the inside and the outside. Our original patented extruded Anti Bi-Metallic Polyamide Insulation Profile adopts a unique design concept to combine two heat insulation strips in the form of slide rails. It works as a whole to ensure the transverse tensile force and will move together to compensate the changes caused by the temperature deviations between the inner and outer sides of the combined profiles, achieving the effect of offsetting the stress.
Our Anti Bi-Metal Polyamide Heat Bridge allows outer frame expansion by expansion of the polyamide profiles. It can effectively eliminate distortion of contractions and expansions of the profiles and prevent warping caused by the differences in temperature between the outside and inside aluminum profiles. This fantastic solution will not affect the fit of the inner frame, meaning that your windows or doors will continue function as normal, as a result, allowing the closure to close easily.
Technical Details
Product Name: Anti Bi-Metal Solution, Thermal Insulation Polyamide Profiles, Thermal Break Polyamide Strips, Thermal Barrier Polyamide Strips, Thermal Struts, Anti Bi-Metallic Polyamide Profiles
Kronos Model No.: 220D01
Material: PA66 GF25
Processing: High Precision Polyamide Extrusion
Width: 22mm
Density: 1.30 ± 0.05 g/cm³
Shore Hardness: 80
Polyamide Profile Color: Black
Standard Length: 6 meters/piece
Packaging: Lineal
Certification: IATF 16949:2016
Applications: Bi-Metallic Effect Affected Thermally Broken Aluminum Windows and Doors, Passive House, Passive Windows, Engergy Efficient Buildings, Sustainable Buildings etc.
Kronos's 22mm Anti Bi-Metal Polyamide Insulating Strips are shown as below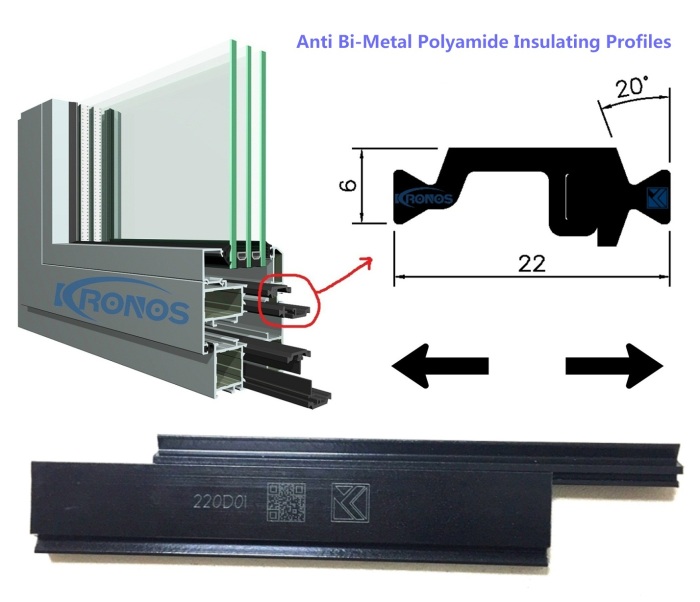 Kronos Precision Extrusion uses VIRGIN NYLON (POLYAMIDE) for the Thermal Insulating Polyamide Profiles.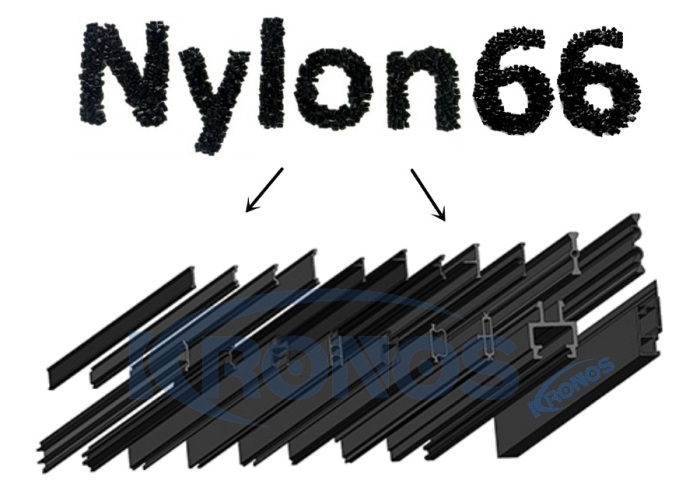 Our polyamide resins are imported from the international TOP manufacturers and are subject to strict incoming inspection at the time of entry.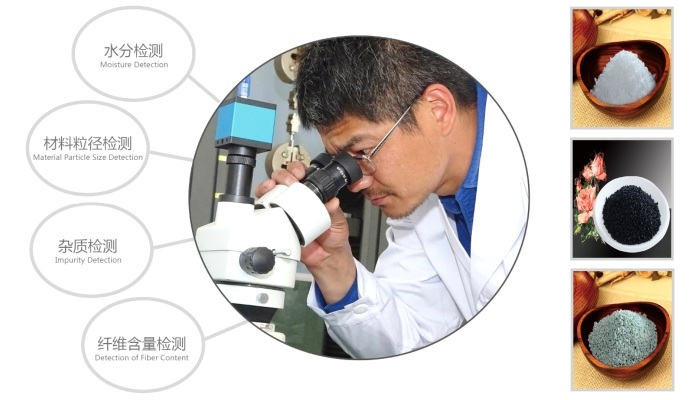 The Quality of Kronos's PA66GF25 Thermal Insulation Polyamide Profiles is Impeccable.

At Kronos Precision Extrusion, no Thermal Insulating Polyamide Profiles are allowed to send to customers without Quality Check.
Kronos offers standard and tailored Laser Marking for easier traceability and improved quality control, adding extra value to your products and company.

Offering nothing but the best, we pride ourselves with the use of state-of-the-art machinery to produce the top-notch quality thermal insulating polyamide strips. They are built with careful attention to detail and superb craftsmanship using innovative engineering with the leading technologies.
Our friendly and professional team is committed to ensuring you're happy not only with the product you choose, but also the service you receive from everyone at Kronos Precision Extrusion. We listen to what our customers request of us, addressing these needs, always aiming to surpass your expectations.
As you learn more about Kronos, you will discover that we are trying to achieve the same thing as you – PERFECTION.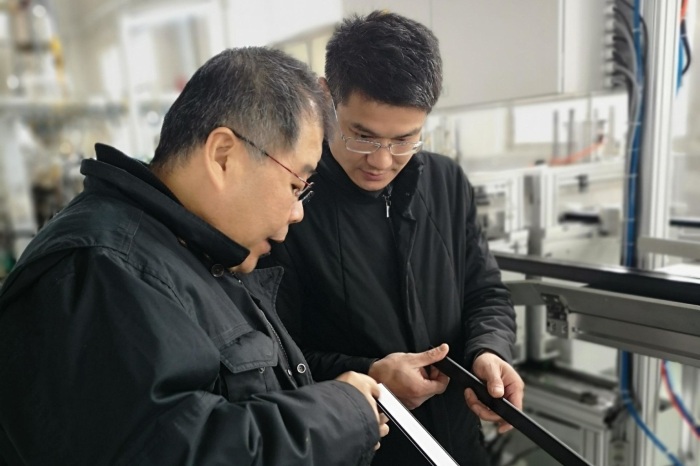 Whatever your thermoplastics extrusion challenges are, the friendly and professional experts of Kronos Precision Extrusion are here for YOU.