Overview
The aluminum windows and doors of today are a lot better than the older styles of the 1970s and 1980s. One of the biggest advantages of aluminum is that it's very light but still strong. It's durable and doesn't require much maintenance, especially with a factory-baked or anodized finish. If you have windows with unusual shapes, you might consider aluminum because it can easily be manipulated into the shape you need.
However, aluminum doesn't hold heat in well. The thermal conductance of aluminum is high. Thus aluminum windows and doors may not work well in cold climates. Condensation or even frost forms inside the windows/doors and can present a variety of problems.
This problem is very well solved by using a separator/non-conductive material (Thermal Break or Thermal Barrier) between the inner and outer aluminum frames to prevent the temperature transfer through the frame and condensation on the inside frame. There has to be a complete break between interior and exterior aluminum parts; otherwise a thermal bridge will be established, and you will lose heat.
Speaking of the thermal break for aluminum windows, doors, facades, and curtain wall systems, it is scientifically-proven that the best option is extruded insulation strips made of Polyamide 66 (PA66 or Nylon 66) with 25% fiber glass reinforcement. The use of polyamide 66 resins reinforced with 25% glass fiber in the production of polyamide insulation strips makes these components in combination with the aluminum profile, behave similar to the aluminum metal. It can be said that the difference in the coefficient of expansion and the longitudinal contraction of the polyamide strips with aluminum is almost Zero, which makes it possible for Thermal Break profiles to keep their form and shape in a long time and in the face of different temperatures.
Kronos Precision Extrusion is an innovative Singapore-Germany joint venture that specializes in developing and manufacturing Thermal Insulating Polyamide Profiles with Astonishing High Precision Thermoplastic Extrusion process and techniques. We offer a range of standard and custom-made extruded profiles from Virgin Polyamide 66 (PA66 or Nylon 66) and other materials for aluminum windows, doors, facades, curtain walls, operating rods, solar panels, automotive sunroof blind rails, and various engineering applications.
Kronos is a Clear Winner in head-to-head competition. We pride ourselves with the use of state-of-the-art machinery and unique technical know-how to produce thermal insulation polyamide profiles. They are produced with careful attention to detail and superb craftsmanship using innovative engineering with the newest technologies. Extremely Smooth Surfaces, Uniquely Sharp Contours, Impressive Low Tolerances, Outstanding High Precision, these are the very right words to describe Kronos's polyamide strips.
Ensuring sustainability is at the heart of what we do. For over 20 years, Kronos's innovative, high-precision polyamide 66 based insulation profiles for aluminum doors, windows, and facade systems have helped improve quality and comfort, while delivering energy savings and reducing CO2 emissions worldwide.
Kronos has a great passion for plastics solutions. Our skilled team has the technical know-how and rich experience to advise on the best design and specification for your project, no matter how unique or challenging. We try to listen to what our customers request of us, addressing these needs, always aiming to surpass your expectations.
Technical Specifications:
Product Name: Thermal Insulation Polyamide Profiles, Thermal Break Polyamide Strips, Thermal Barrier, Heat Insulating Polyamide Strips, Thermal Struts, Polyamide Insulating Struts
Kronos Model No.: 180G01
Material: Virgin Polyamide PA66 GF25
Processing: High Precision Polyamide Extrusion
Width: 18mm
Standard Length: 6 meters/piece
Density: 1.30 ± 0.05 g/cm³
Polyyamide Profile Color: Black
Standards: European Standard EN 14024:2004 & GB/T 23615.1-2017
Certification: IATF 16949:2016
Applications: Thermally Broken Aluminum Windows and Doors, Passive Windows, Energy Efficient Buildings etc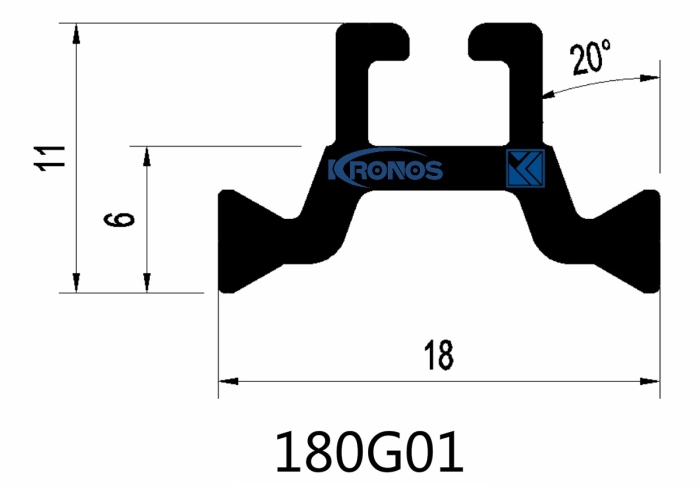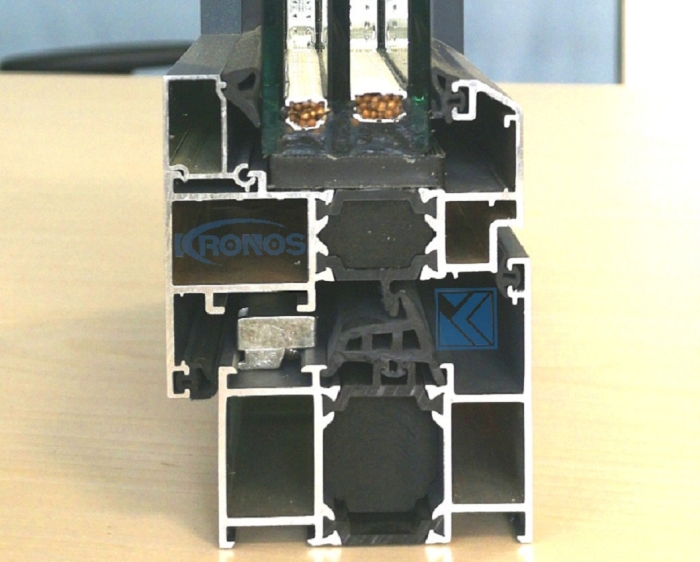 25% Pure Glass Fiber reinforcement guarantees the Thermal Break Polyamide Strips (PA66 GF25) strength and excellent reliability.

Internal View of Kronos's Thermal Insulating Polyamide Strips

At Kronos Precision Extrusion, Thermal Break Polyamide Strips MUST go through Rigorous Quality Check prior to delivery.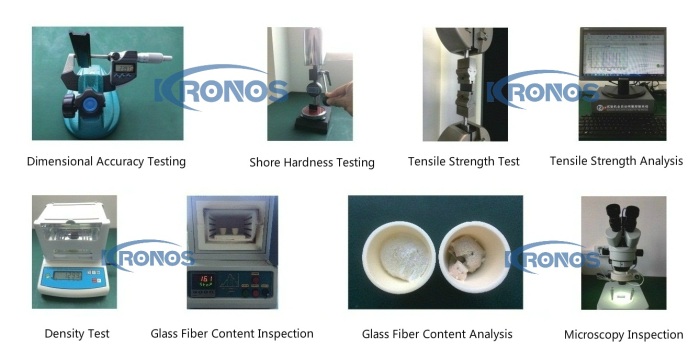 Kronos Precision Extrusion uses Fumigation-Free wooden case packaging to ensure the thermal break polyamide strips well stored.
Aluminum Windows & Doors manufacturers are greatly impressed by the AWESOME Quality of Kronos's Polyamide Strips and it's Capabilities.