Overview
Without Insulation, also called Thermal Break, Thermal Strut or Thermal Barrier, aluminum windows, doors, and facades are not energy efficient at all because they transfer heat and cold, which leads to a tremendous loss of valued thermal energy. These are where Kronos's Thermal Insulating Polyamide Profiles come into play.
Kronos Precision Extrusion is an innovative Singapore-Germany joint venture that specializes in developing and producing Thermal Insulating Polyamide Profiles with Cutting-Edge High Precision Thermoplastic Extrusion process and techniques. We offer a range of standard and tailor-made extruded profiles from Virgin Polyamide 66/Polyamide 6 (PA66/PA6 or Nylon 66/Nylon 6) and other materials for aluminum windows, doors, facades, curtain walls, operating rods, solar panels, automotive sunroof blind rails, and various engineering applications.
The state-of-the-art insulation technique used by Kronos Precision Extrusion, connects the outer chamber and the inner chamber through Fiberglass Reinforced Polyamide Strips. These strips provide a thermal break and come in various widths and shapes.
Our High Efficiency polyamide profiles set new standards in thermal separation, permit excellent U values and are the first choice in low-energy and passive buildings.
Kronos Polyamide Thermal Struts yield first-in-class thermal performance and exceed not only current codes, but also exceed the most stringent green building codes and standards in the market today.
Kronos has a great passion for plastic solutions. We play a very active role in contributing to the UN 2030 Agenda for Sustainable Development. Our friendly and professional team is committed to ensure you're happy not only with the high precision polyamide profiles you choose, but also the service you receive from everyone at Kronos Precision Extrusion. We listen to what our customers request of us, addressing these needs, always aiming to surpass your expectations.
Tech Data
Product Name: Thermal Insulation Polyamide Profiles, Thermal Strut, Polyamide Insulating Strut, Thermal Break Polyamide Strips, Thermal Barrier
Kronos Model No.: 200T01
Material: Virgin Polyamide PA66 GF25
Processing: High Precision Polyamide Extrusion
Width: 20mm
Profile Density: 1.30 ± 0.05 g/cm³
Standard Length: 6 Meters/Piece
Polyamide Profile Color: Black
Standards: European Standard EN 14024:2004 & GB/T 23615.1-2017
Kronos Extrusion Certification: IATF 16949:2016
Applications: Thermally-Broken Aluminum Windows & Doors, Passive House, Energy-Efficient Buildings, Passive Windows, Sustainable Buildings etc.
20mm Thermal Strut-Thermal Insulation Polyamide Profiles are shown as below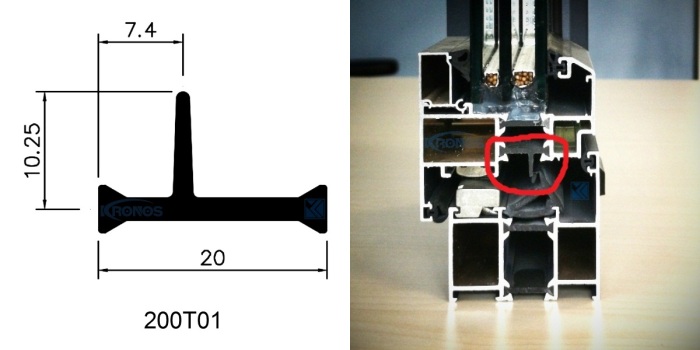 Kronos Precision Extrusion develops and produces an endless range of Polyamide Profiles from Virgin Polyamide 66 or Polyamide 6.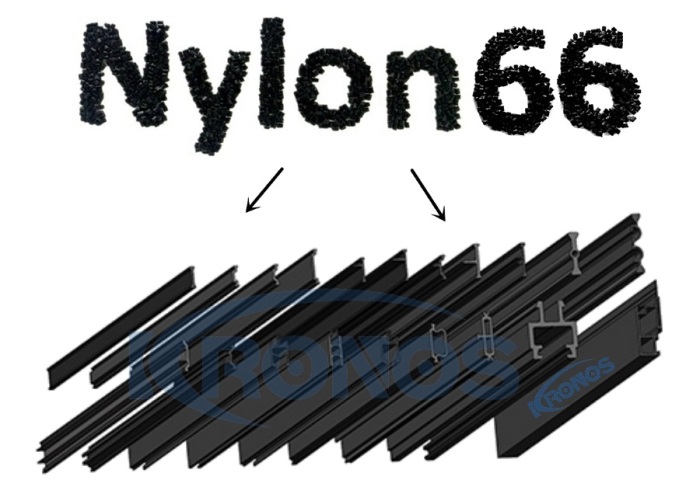 Internal View of Kronos's Thermal Insulation Polyamide Profiles

Pure glass fiber used in Kronos's High Precision Extruded Polyamide Profiles.

At Kronos Precision Extrusion, all the Polyamide Thermal Barrier Strips are subject to a Rigorous inspection process prior to delivery.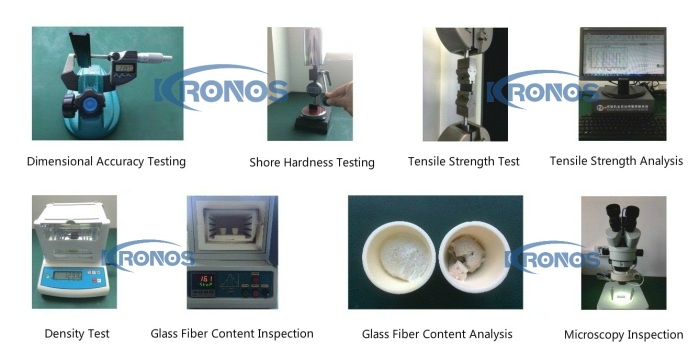 Exchange of Know-How - The Milux Windows and Kronos Precision Extrusion Team