Overview
Kronos Precision Extrusion is an innovative Singapore-Germany joint venture that leads the way in developing and producing Thermal Insulating Polyamide Profiles with Astonishing High Precision Thermoplastic Extrusion process and techniques. We offer a range of standard and custom-made extruded profiles from Virgin Polyamide 66/Polyamide 6 (PA66/PA6 or Nylon 66/Nylon6) and other materials for thermally broken aluminum windows, doors, facades, curtain wall systems, operating rods, solar panels, automotive sunroof blind rails, and various engineering applications.
The cutting-edge insulation technique used by Kronos Polyamide Extrusion, connects the outer chamber and the inner chamber through Pure Glassfiber (25%) Reinforced Polyamide Strips. These strips provide an ideal thermal break and come in various widths and shapes. When it comes to tensile, bending, twisting, and slipping strength of the monolithic thermal broken polyamide profile, Kronos is truly Impressively Good.
Kronos Precision Extrusion understands the importance of hitting critical timelines for new product development projects. Therefore, we offer a quick turnaround to help speed up your process development to ensure you hit your project milestones on time.
Kronos Precision Extrusion thrives upon Wide and Intricate polyamide extrusions that challenge today's extrusion capabilities. If you buy Thermal Break Polyamide Profiles from Kronos Precision Extrusion, you'll immediately know just how accurate they are and how precisely they fit together with the aluminum frames.
Product Name: Thermal Insulation Polyamide Profiles, Thermal Break, Thermal Barrier, Polyamide Struts

Manufacturer: Kronos Precision Extrusion
Kronos Extrusion Model No.: 186C01
Material: Virgin Polyamide PA66 + 25% Pure Glass Fiber
Processing: High precision polyamide extrusion
Width: 18.6mm
Standard Length: 6 meters/piece or customized
Profile Density: 1.30 ± 0.05 g/cm³
Shore Hardness: 80
DSC Melting Peak Temperature: 255ºC
Polyamide Profile Color: Black
Standards: European Standard EN 14024:2004 & GB/T 23615.1-2017
Kronos Certification: IATF 16949:2016
Applications: Thermal Break Aluminum Windows and Doors, Passive Windows, Energy-Saving Buildings, Passive House, Sustainable Buildings etc.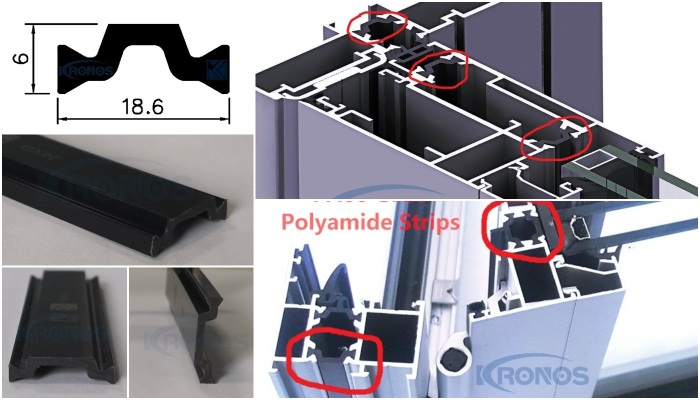 At Kronos Precision Polyamide Extrusion, all the Thermal Insulating Polyamide Profiles must be checked thoroughly prior to delivery.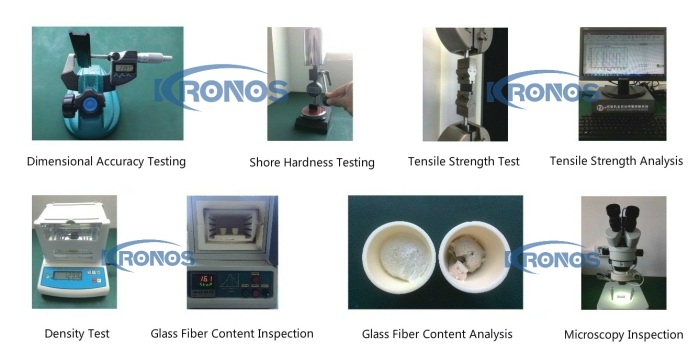 Thermal Insulation Polyamide Strips are ready for delivery
Korean Customer and the Kronos Precision Polyamide Extrusion Team