Overview

Kronos Precision Extrusion is an innovative Singapore-Germany joint venture which has extensive experiences and great expertise in developing and manufacturing Thermal Insulating Polyamide Profiles with Cutting-Edge High Precision Thermoplastic Extrusion process and techniques. We offer a range of standard and custom-made extruded profiles from Virgin Polyamide 66/Polyamide 6 (PA66/PA6 or Nylon 66/Nylon 6) and other materials for aluminum windows, doors, facades, curtain walls, operating rods, solar panels, automotive sunroof blind rails, and various engineering applications.
Kronos Precision Extrusion, credited with being the top producer of the thermal insulating plastic bar has developed and produced insulation profiles for system manufacturers, metal and window processors for decades. Kronos® is Synonymous with premium quality insulating profiles which are used for the thermal separation of aluminium profiles from the outer and inner shell of window, door and facade constructions. Our insulation profiles are extremely efficient at preventing energy losses in buildings and enable outstanding Uf values up to conformance with the stringent passive house standard.
Kronos Precision Extrusion is a specialist in the development and production of thermal insulation profiles for windows, doors and facades construction. Kronos® thermal insulation profiles create a thermal barrier between the inner and outer shells of a metal frame, forming a perfectly insulated window edge bond in combination with Kronos® spacers.
Kronos extrudes polyamide/thermoplastics profiles in a wide range of sizes and shapes, with our specialization and expertise lying in working with virgin plastic materials. Our highly-experienced experts can quickly evaluate your fabrication requirements and extrude your custom plastic products. Extrusion services for both prototype as well as large volume production runs are handled with Extremely High Precision.
Kronos Precision Extrusion understands the importance of hitting critical timelines for new product development projects. Therefore, we offer a quick turnaround to help speed up your process development to ensure you hit your project milestones on time.
Product Name: Thermal Insulation Polyamide Profiles for Facade Systems, Thermal Break Polyamide Curtain Wall Spacers, Thermal Insulation Polyamide Bars, Thermal Struts

Manufacturer: Kronos Precision Extrusion
Kronos Extrusion Model No.: 120H01
Main Material: Virgin Polyamide - PA66 + 25% Pure Glass Fiber
Processing: High Precision polyamide extrusion
Width: 12mm
Standard Length: 6 meters/piece or customized
Profile Density: 1.30 ± 0.05 g/cm³
Shore Hardness: 80
Polyamide Profiles Color: Black
Standards Carried: European Standard EN 14024:2004 & Chinese GB/T 23615.1-2017
Kronos Extrusion Certification: IATF 16949:2016
Applications: Thermal Insulation/Thermal Break/Thermal Barrier Aluminum Facades and Curtain Wall Systems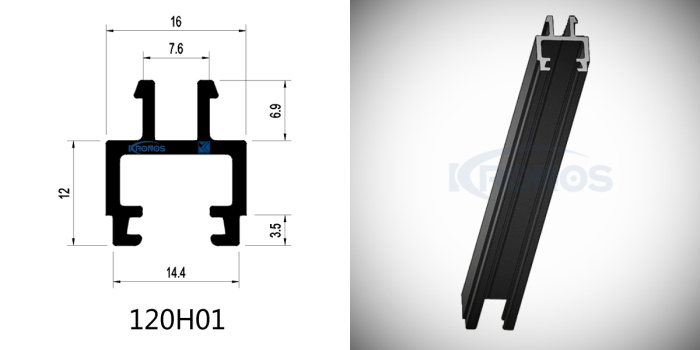 Kronos Precision Extrusion develops and produces insulating Polyamide Profiles in various shapes and sizes for different applications.
Why Kronos Precision Extrusion?
1. We have the TOP-NOTCH thermoplastics extrusion experts, process, know-how, and techniques.
2. We develop and supply Extremely High Precision plastic profiles with Tight Tolerance.
3. State-of-the-art extruding machinery with our own Optimization.
4. Own Know-How Proprietary Design for all dies to ensure World-Class Quality & Precision.
5. Wide and Intricate plastic profiles extrusion capabilities.
6. Raw Material: Virgin Polyamide 66 (Nylon 66) and Pure glass fibers, Virgin Polyamide 6 (Nylon 6) etc.
7. Decades of experiences and expertise in the R&D of thermal insulating zones optimization.
8. Competitively Priced
When it comes to the quality of Polyamide Profiles, Kronos Precision Extrusion is really serious about it.

All batches of Kronos's thermal insulation polyamide profiles are subject to a rigorous inspection process prior to delivery.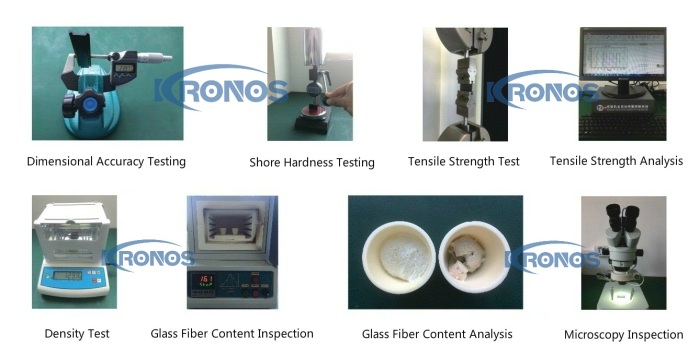 Exchange of Know-How - The Milux Windows & Kronos Precision Extrusion Team