Overview
In architecture, the Facade of a building is often the most important aspect from a design standpoint, as it sets the tone for the rest of the building. From the engineering perspective of a building, the facade is also of great importance due to its impact on Energy Efficiency.
Lightweight, durable and stylish, aluminum is frequently the material of choice for the exteriors of office buildings and other large-scale modern highrise construction projects. A vital element in the drive for intelligent construction, our aluminum facade solutions for external wall insulation help improve the thermal performance of this popular material.

In cities with high-rise buildings such as skyscrapers, Thermally Separated Facades are especially important to ensure efficiency and safety. Thanks to our extensive experience in working with thermally broken windows and doors, we are able to optimize element facades (exteriors that combine various components and materials in a single element) for full peace of mind. While for stick-facades, we offer polyamide spacers and pressure plates to ensure ideal thermal performance.
Kronos Precision Extrusion is an innovative Singapore-Germany joint venture that specializes in developing and manufacturing Thermal Insulating Polyamide Profiles with Cutting-Edge High Precision Thermoplastic Extrusion process and techniques. We offer a range of standard and tailor-made extruded plastic profiles from Virgin Polyamide 66/Polyamide 6 (PA66/PA6 or Nylon 66/Nylon 6) for constructional, commercial, institutional, and engineering applications.
Ensuring Sustainability is at the heart of what we do. For over 20 years, Kronos's innovative, high-precision polyamide 66 based insulation profiles for aluminum doors, windows, and facade systems have helped improve quality and comfort dramatically, while delivering energy savings and reducing CO2 emissions worldwide.
State-of-the-art extrusion machinery, cutting-edge technology, process, know-how, proprietary design of dies, superior customer service, quality management, and reliable quality & precision guarantees that all customers' thermoplastics extrusion needs are 100% Satisfied at Kronos Precision Extrusion.
Product Name: Thermal Insulation Polyamide Profiles for Facade Systems, Polyamide Curtain Wall Spacers, Thermal Struts, Polyamide Insulating Struts

Manufacturer: Kronos Precision Extrusion
Kronos Extrusion Model No.: 188U01
Main Material: Virgin Polyamide PA66 + 25% Pure Glass Fiber
Processing: High Precision polyamide extrusion
Width: 18.86mm
Standard Length: 6 meters/piece or customized
Profile Density: 1.30 ± 0.05 g/cm³
Shore Hardness: 80
Polyamide Profiles Color: Black
Standards Carried: European Standard EN 14024:2004 & Chinese GB/T 23615.1-2017
Kronos Extrusion Certification: IATF 16949:2016
Applications: Thermal Insulation/Thermal Break/Thermal Barrier Facade Systems & Curtain Walls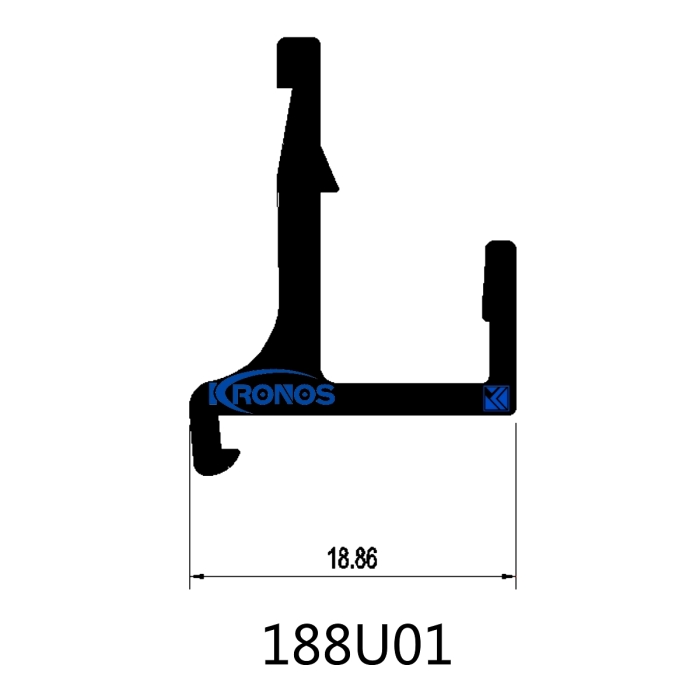 Kronos Precision Extrusion develops and produces TOP Quality Polyamide Profiles in various shapes and sizes for different applications.
When it comes to the quality of Polyamide Profiles, Kronos Precision Extrusion is REALLY serious about it.

All batches of Kronos's thermal insulation polyamide profiles are subject to a rigorous inspection process prior to delivery.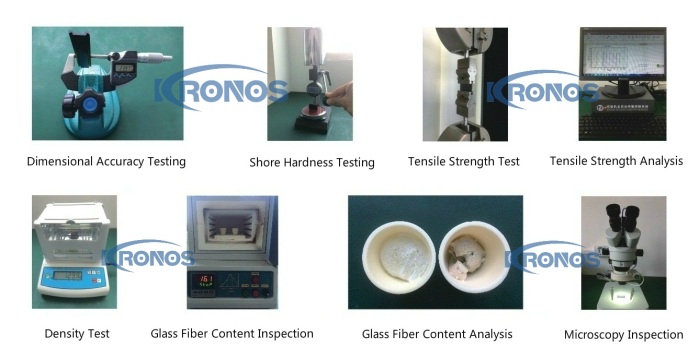 Exchange of Know-How - The Milux Windows & Kronos Precision Extrusion Team