Overview
A Thermal Break, Thermal Strut, or Thermal Barrier is an element of low thermal conductivity placed in an assembly to reduce or prevent the flow of thermal energy between conductive materials. The most common technique for insulating aluminium profiles is insulation with extruded Polyamide Profiles. The thermal broken system consists of two independent profiles with similar or unlike shapes connected by Polyamide Strips in order to obtain one monolithic profile having low UV factor and low transmission sound. This will minimize heat transfer between the interior and exterior of doors and windows, which will improve the energy saving better than traditional systems. The wider the polyamide strips, the higher the insulation factor.
Kronos Precision Extrusion is an innovative Singapore-Germany joint venture that specializes in developing and manufacturing Thermal Insulating Polyamide Profiles with Cutting-Edge High Precision Thermoplastic Extrusion process and techniques. We offer a range of standard and custom-made extruded profiles from Virgin Polyamide 66/Polyamide 6 (PA66/PA6 or Nylon 66/Nylon 6) and other materials for aluminum windows, doors, facades, curtain walls, operating rods, solar panels, automotive sunroof blind rails, and various engineering applications.
The state-of-the-art insulation technique used by Kronos Polyamide Extrusion, connects the outer chamber and the inner chamber through fiberglass reinforced polyamide strips. These strips provide a thermal break and come in various widths. When it comes to tensile, bending, twisting, and slipping strength of the monolithic thermal broken profile, Kronos truly Excels.
Kronos's Polyamide Thermal Struts yield excellent thermal performance and exceed not only current codes, but also exceed the most stringent green building codes and standards in the market today.
Wide and Intricate polyamide extrusions that challenge today's extrusion capabilities are the jobs that Kronos thrives upon. If you buy Thermal Break Polyamide Profiles from Kronos Precision Extrusion, you'll know just how accurate they are and how precisely they fit together with the aluminum frames.
Product Name: Thermal Insulation Polyamide Profiles, Thermal Break Polyamide Strips, Eurogroove Design Thermal Barrier, Polyamide Thermal Struts

Manufacturer: Kronos Precision Extrusion
Model No.: 253C01
Material: Virgin Polyamide PA66 GF25
Processing: High precision polyamide extrusion
Width: 25.3mm
Standard Length: 6 meters/piece
Density: 1.30 ± 0.05 g/cm³
Shore Hardness: 80
DSC Melting Peak Temperature: 255ºC
Color: Black
Standards: European Standard EN 14024:2004 & GB/T 23615.1-2017
Certification: IATF 16949:2016
Applications: Aluminum Profiles, Thermal Break Aluminum Windows & Doors, Passive Windows, Passive House, Energy Efficient Buildings, Sustainable Buildings etc.
Kronos's 25.3mm (253C01) Eurogroove Design Thermal Struts-Polyamide Insulating Profiles are shown as below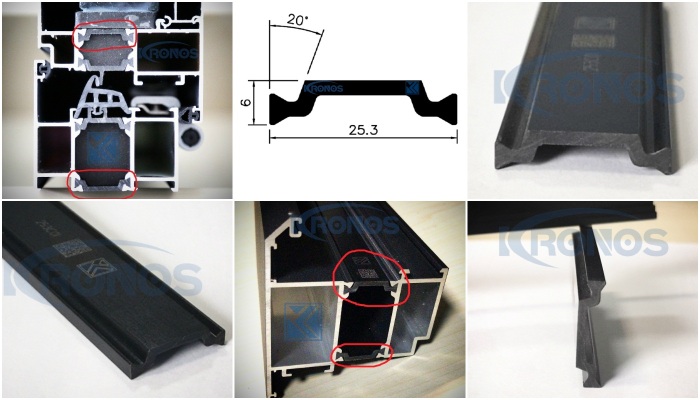 Pure glass fibre used in Kronos's thermal insulating polyamide profiles

At Kronos Precision Extrusion, all the Thermal Insulating Polyamide Profiles must be checked thoroughly before delivery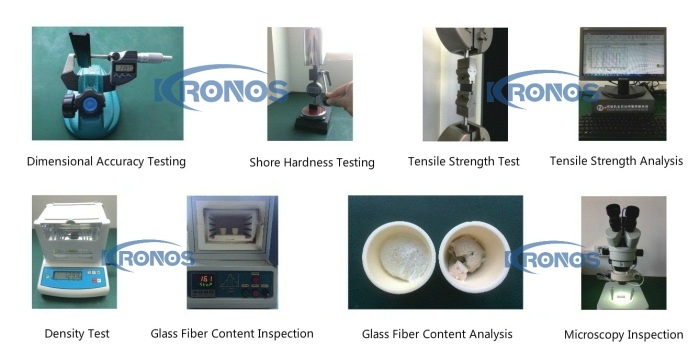 High Precision Extruded Thermal Insulation Polyamide Strips ready for delivery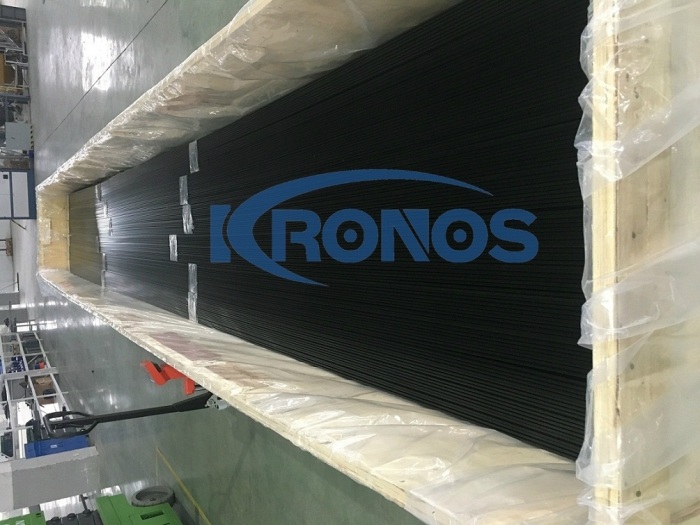 Offering nothing but the best, we pride ourselves with the use of state-of-the-art machinery to produce the top-notch quality thermal insulating polyamide strips. They are built with careful attention to detail and superb craftsmanship using innovative engineering with the newest technologies.
Our friendly and professional team is committed to ensuring you're happy not only with the product you choose, but also the service you receive from everyone at Kronos Precision Extrusion. We listen to what our customers request of us, addressing these needs, always aiming to surpass your expectations.
As you learn more about Kronos, you will discover that we are trying to achieve the same thing as you – PERFECTION.