The key component to Thermally Broken Systems are the Polyamide 66 based Glass Fiber (25%) Reinforced Pressure Extruded Insulating Strips that join two separate aluminum extrusions into one thermally broken frame.
Kronos Precision Extrusion is an innovative company that leads the way in developing and manufacturing high-end standard and tailor-made glass fiber reinforced Polyamide Profiles(Polyamide Strips or Polyamide Struts) for thermally broken aluminum windows, doors, facades, curtain wall systems, and various engineering applications.
We offer the latest in thermal performance to the fenestration industry with unique thermal strut separator between the aluminium profiles to achieve the ideal heat/cold insulating properties. Thermal separation in aluminium profile systems makes use of the physical advantages of plastics. Our insulating strips are tested and certified according to international regulations.
Extremely Smooth Surfaces, Tighest Tolerance, Outstanding High Precision, these are the words to describe Kronos's polyamide profiles. If you buy Thermal Break Polyamide Profiles from Kronos Precision Extrusion, you'll instantly tell the difference and know just how accurate they are and how precisely they fit together with the aluminum frames.
Wide and Intricate polyamide extrusions that challenge today's extrusion capabilities are the jobs that Kronos thrives upon. We pride ourselves on taking polyamide extrusions challenges which others say too difficult.
Our team has extensive expertise and technical know-how in new product development of thermoplastic extrusions, which allows us to be flexible and quickly adaptable to meet your specific needs. Our manufacturing capabilities span a broad range of products and thermoplastic polymers which makes us the perfect partner for all of your standard and tailor-made precision thermoplastic profiles extrusion needs.
Technical Specifications:
Product Name: Thermal Insulation Polyamide Profiles, Thermal Break Polyamide Strips, Thermal Barrier Polyamide Profiles, Thermal Struts, Thermal Break Polyamide Struts

Manufacturer: Kronos Precision Extrusion
Kronos Extrusion Model No.: 320C01
Design: Eurogroove (20°)
Main Material: Virgin Polyamide 66 + 25% Pure Glass Fiber, PA66 GF25
Processing: High Precision polyamide extrusion
Width: 32mm
Standard Length: 6 meters/piece or customized
Profile Density: 1.30 ± 0.05 g/cm³
Shore Hardness: 80
Polyamide Strips Color: Black
Standards Carried: European Standard EN 14024:2004 & Chinese GB/T 23615.1-2017
Kronos Extrusion Certification: IATF 16949:2016
Applications: Thermally Broken Aluminum Doors & Windows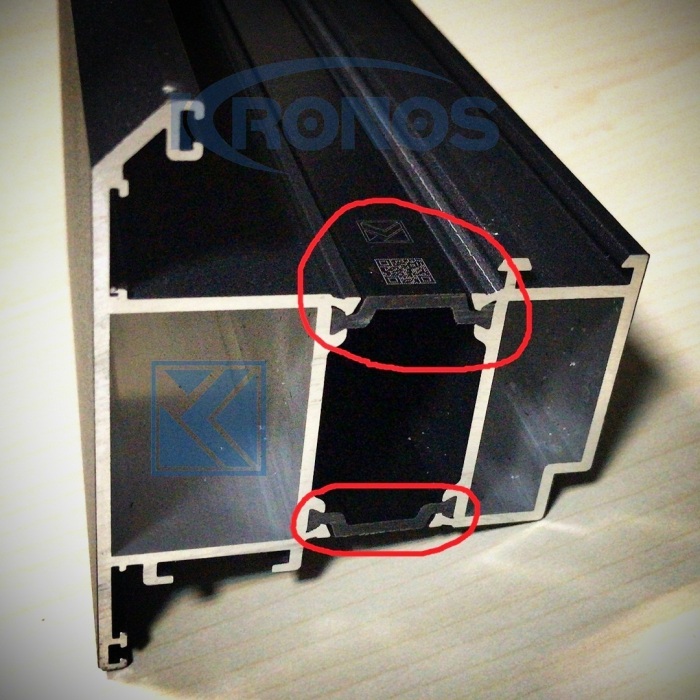 Kronos Precision Extrusion Produces Polyamide Insulating Profiles with PE Foam for better Insulating Performance and Energy-Saving Efficiency.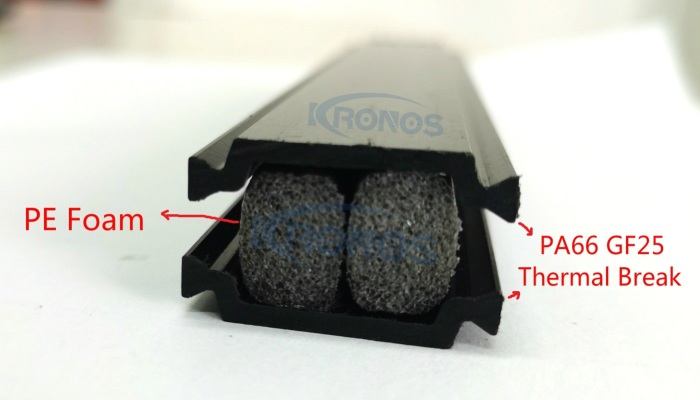 Benefits of High Precision Extruded PA66 GF25 Thermal Insulation Polyamide Profiles:
The Polyamide Strips are mechanically bonded between the aluminum frames.

The Polyamide Struts and the aluminum frames have almost identical coefficients of expansion. As a result, thermal break systems resist the thermal cycling, which occurs in actual building conditions better than any method available in today's market.

Thermal Break Polyamide Profiles will withstand heat in fenestration systems better than any other system, resulting in improved structural integrity.

The use of polyamide strut also allows for endless new product design. With this method the two separate extrusions can easily have different paint or anodize combinations, which adds significant flexibility to each individual use.

Increased Structural Strength.

Ability to make various window and door systems with the same aluminum profiles, using different sized and shaped polyamide insulating struts.




Kronos's Thermal Insulation Polyamide Profiles in Comparison with Bad Quality Polyamide Strips




All batches of Kronos's polyamide profiles are subject to a rigorous inspection process prior to delivery.




Glass Fiber Reinforced PA66 GF25 Thermal Break Polyamide Strips ready for delivery




As you learn more about Kronos, you will discover that we are trying to achieve the same thing as you – PERFECTION.




Exchange of Know-How-The Milux Windows and the Kronos Precision Extrusion Team