Overview
Kronos Precision Extrusion is an innovative Singapore-Germany joint venture that specialises in developing and manufacturing Thermal Insulating Polyamide Profiles with Cutting-Edge High Precision Thermoplastic Extrusion process and techniques. We offer a wide range of standard and tailor-made extruded plastic profiles from Virgin Polyamide 66/Polyamide 6 (PA66/PA6 or Nylon 66/Nylon 6) and other materials for aluminum windows, doors, facades, curtain walls, operating rods, solar panels, automotive sunroof blind rails, and various engineering applications.
Kronos Thermal Breaks Profiles (Thermal Struts) are made of pure fiberglass reinforced polyamide with glass fibers oriented in 3 directions for optimal structural performance. Structural performance and mechanical response are exceptional with the multidirectional glass fibres oriented in 3D to give improved load transfer.
Our High Efficiency polyamide profiles set new standards in thermal separation, permit excellent U values and are the first choice in low-energy and passive buildings.
Kronos Polyamide Thermal Struts yield excellent thermal performance and exceed not only current codes, but also exceed the most stringent green building codes and standards in the market today.
By identifying and embracing each individual's specific challenges, Kronos Precision Extrusion can design the exact solution to meet the most demanding requirements. We extrude a huge variety of nylon (polyamide) profiles, tubes, operating rods, guide rails and some other plastic parts. Wide and Intricate polyamide extrusions that challenge today's extrusion capabilities are the jobs that Kronos thrives upon. We are capable of extruding wide(75mm and above in depth) and complex polyamide profiles which most extruders can not do.
Kronos has a great passion for plastic solutions. Our friendly and professional team is committed to ensure you're happy not only with the high precision polyamide profiles you choose, but also the service you receive from everyone at Kronos Precision Extrusion. We listen to what our customers request of us, addressing these needs, always aiming to surpass your expectations.
Technical Description:
Product Name: Thermal Insulating Polyamide Profiles, Hollow Chamber Polyamide Profiles, Thermal Break Polyamide Strips, Thermal Barrier Polyamide Strips, Thermal Struts, Multi Cavity Polyamide Insulating Struts
Kronos Precision Extrusion Model No.: 353H02
Material: Nylon 66 + 25% Glass Fibre - Virgin Polyamide PA66 GF25
Processing: High Precision Polyamide Extrusion
Profile Width: 35.3mm
Profile Density: 1.30 ± 0.05 g/cm³
Standard Length: 6 meters/piece
Polyamide Profiles Color: Black
Packaging: Lineal
Kronos Certification: IATF 16949:2016
Applications: Thermally Broken Aluminum Windows and Doors, Passive House, Energy Efficient Buildings, Passive Windows, Sustainable Buildings etc.
35.3mm Eurogroove Design Hollow Chamber Thermal Insulating Polyamide Struts are shown as below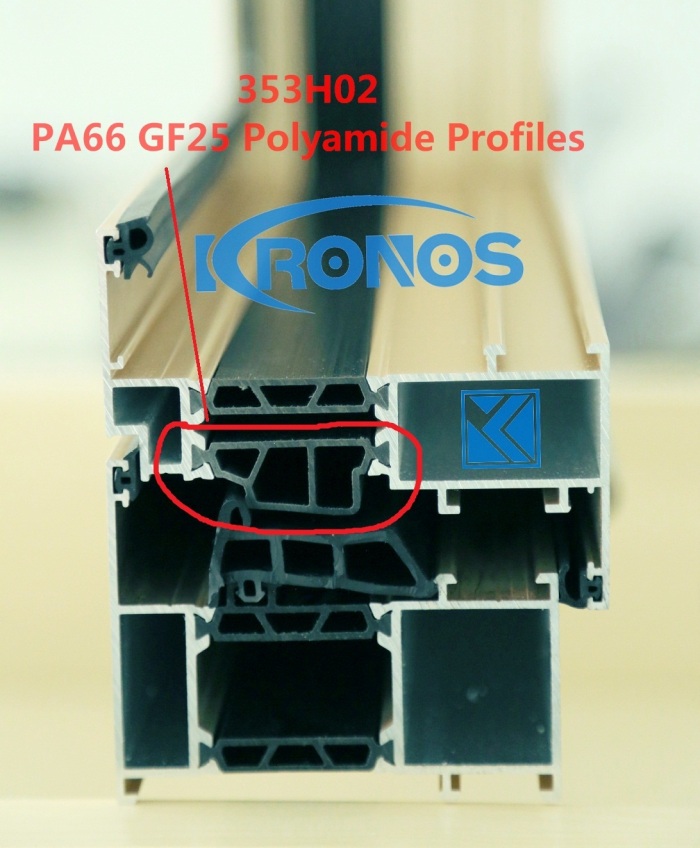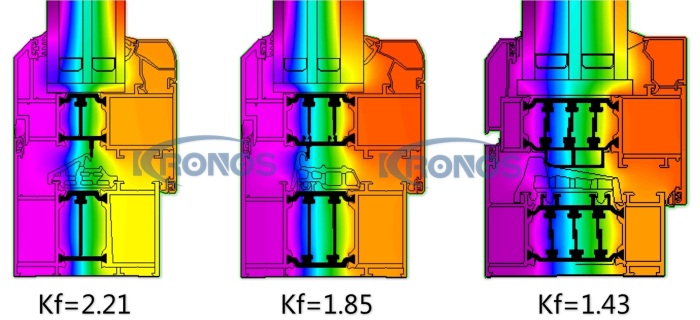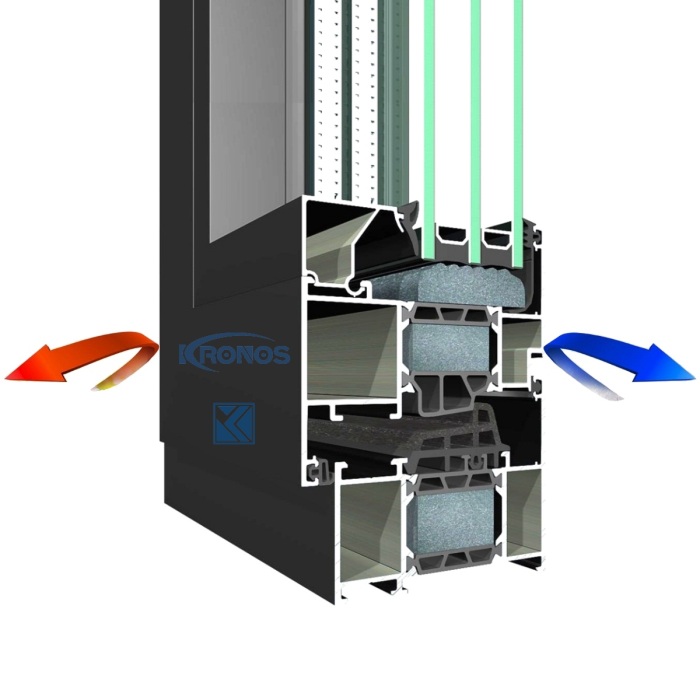 Our polyamide resins are imported from the international TOP manufacturers and are subject to strict incoming inspection at the time of entry.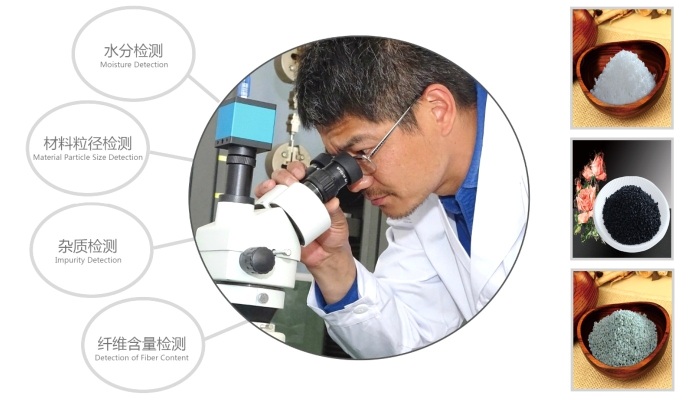 Pure Glass Fiber used in Kronos's PA66 GF25 Thermal Insulation Profiles

Internal View of Kronos's High Precision Extruded Polyamide Profiles


Solid and Comprehensive Quality Control of the Thermal Insulating Polyamide Profiles-Kronos Precision Extrusion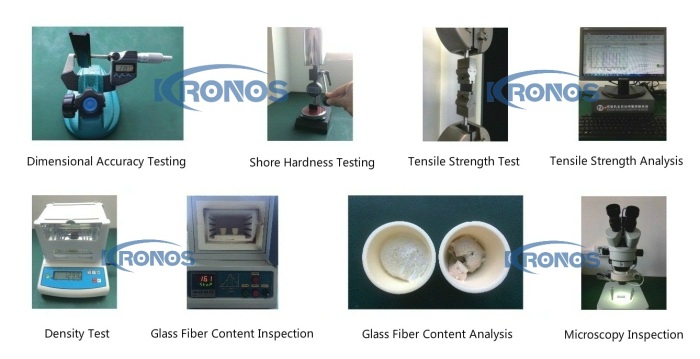 Kronos offers standard and tailored Laser Marking for easier traceability and improved quality control, adding extra value to your products and company.

Offering nothing but the best, we pride ourselves with the use of state-of-the-art machinery to produce the top-notch quality thermal insulating polyamide strips. They are built with careful attention to detail and superb craftsmanship using innovative engineering with the leading technologies.
As you learn more about Kronos Precision Extrusion, you will discover that we are trying to achieve the same thing as you – PERFECTION.
Exchange of Know-How - The Milux Windows and the Kronos High Precision Polyamide Extrusion Team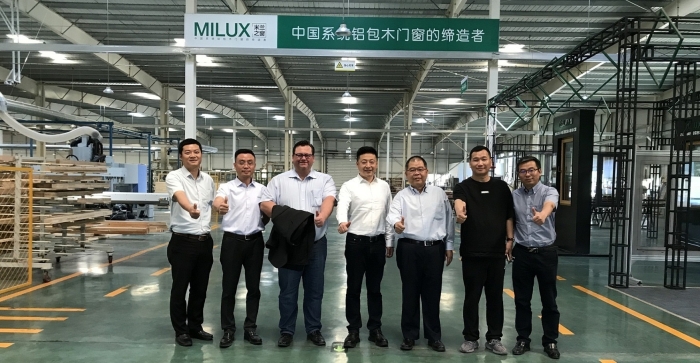 Whatever your thermoplastics extrusion challenges are, the friendly and world-class professional experts of Kronos Precision Extrusion are here for YOU.