Overview
Kronos Precision Extrusion is an innovative Singapore-Germany joint venture that specializes in developing and manufacturing Thermal Insulating Polyamide Profiles with Cutting-Edge High Precision Thermoplastic Extrusion process and techniques. We offer a range of standard and tailor-made extruded plastic profiles from Virgin Polyamide 66/Polyamide 6 (PA66/PA 6 or Nylon 66/Nylon 6) for constructional, commercial, institutional, and engineering applications.
Our polyamide-based Thermal Break System will reduce the conductivity effectively in aluminum extrusions by separating the aluminum profiles into two thermally broken parts. Extremely Smooth Surfaces, Impressive Tight Tolerance, Uniquely Sharp Contours, Excellent High Precision, these are the mostly-used words by clients to describe Kronos's polyamide profiles.
Our team has extensive expertise and technical know-how in new product development of thermoplastic extrusions, which allows us to be flexible and quickly adaptable to meet your specific needs. Our manufacturing capabilities span a broad range of products and thermoplastic polymers which makes us the perfect partner for all of your standard and tailor-made precision thermoplastic profiles extrusion needs.
Kronos Precision Extrusion thrives upon Wide and Complex polyamide extrusions that challenge today's extrusion capabilities. Extrusions others say Can't Be Done are usually just Easy Jobs for Kronos.
Kronos Precision Extrusion understands the importance of hitting critical timelines for new product development projects. Therefore, we offer a quick turnaround to help speed up your process development to ensure you hit your project milestones on time.
We also offer consulting and design assistance that can help you get from concept to fully developed product in a short timespan. Contact us Today for more information on how we can partner on your development project.
Product Name: Thermal Insulation Polyamide Profiles for Aluminum Windows and Doors, Thermal Break Polyamide Strips, Thermal Barrier Polyamide Profiles, Polyamide Insulating Struts, Thermal Struts

Manufacturer: Kronos Precision Extrusion
Kronos Extrusion Model No.: 148T03
Design: Eurogroove
Main Material: Imported Virgin Polyamide 66 + 25% Pure Glass Fiber
Processing: High Precision polyamide extrusion
Width: 14.8mm
Standard Length: 6 meters/piece or customized
Profile Density: 1.30 ± 0.05 g/cm³
Shore Hardness: 80
Polyamide Strips Color: Black
Standards Carried: European Standard EN 14024:2004 & Chinese GB/T 23615.1-2017
Kronos Extrusion Certification: IATF 16949:2016
Applications: Thermal Insulation/Thermal Break/Thermal Barrier Aluminum Doors & Windows, Aluminum Profiles, Passive Windows, Energy Efficient Buildings, Green Buildings, Passive House, Sustainable Buildings etc.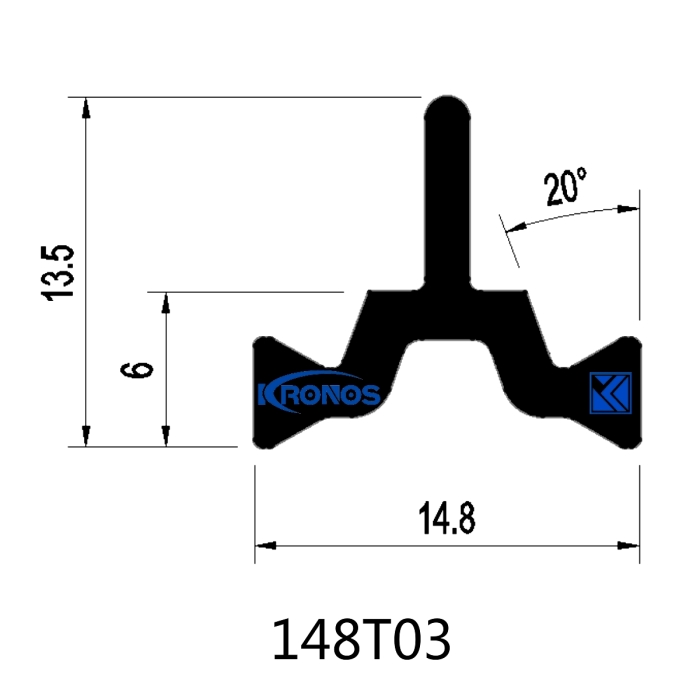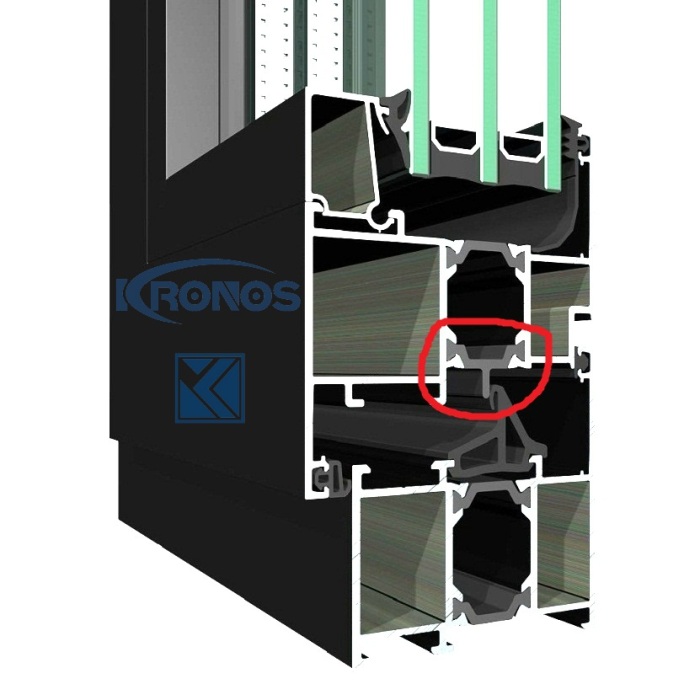 Why Kronos Precision Extrusion?
1. We have the TOP-NOTCH thermoplastics extrusion experts, process, know-how, and techniques.
2. We develop and produce Extremely High Precision plastic profiles with Tight Tolerance.
3. State-of-the-art extruding machinery with our own Optimization.
4. Own Know-How Proprietary Design for all dies to ensure World-Class Quality & Precision.
5. Super Wide and Intricate plastic profiles extrusion capabilities.
6. Raw Material: Virgin Polyamide 66 (Nylon 66) and Pure glass fibers, Virgin Polyamide 6 (Nylon 6) etc.
7. Decades of experiences and expertise in optimization for thermal insulating zones.
8. Competitively Priced
9. On-Time Delivery
Kronos uses imported pure glass fiber for the Thermal Insulating Polyamide Profiles/Thermal Break/Thermal Barrier Polyamide Strips.
Internal View of Kronos's High Precision Extruded Thermal Insulation Polyamide Profiles

All batches of Kronos's thermal insulation polyamide profiles are subject to a rigorous inspection process prior to delivery.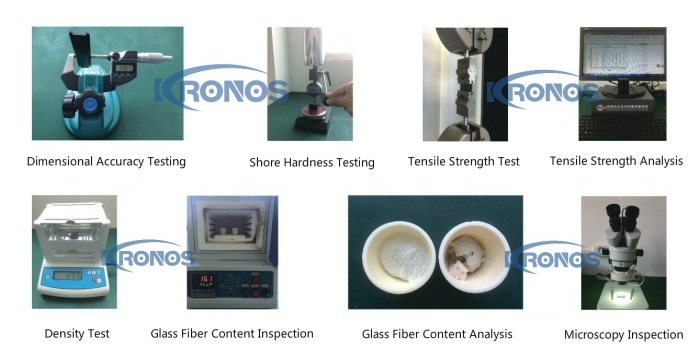 Fumigation-free plywood cases packing guarantees the thermal insulation polyamide profiles well-protected.
Exchange of Know-How-The Milux Windows and the Kronos Precision Extrusion Team