Overview
Aluminium is in most ways the perfect material for constructing windows and doors. It is incredibly strong, light, weather proof and needs very little maintenance to provide years of reliable use. However, aluminium is also a very good conductor of heat, which means that on its own it provides very poor insulation against the winter weather and provides little protection from the summer sun.
Despite sounding like an unfortunate manufacturing defect, Thermally Broken aluminium windows and doors immediately solve this insulation problem by using a "Thermal Break" (sometimes known as a "Thermal Barrier" or "Thermal Strut"). This is a piece of material that doesn't conduct heat at all, used to separate two materials or structures that do conduct heat. It acts as a barrier between the two to prevent heat transferring between them. In the case of aluminium windows and doors, its main benefit is to prevent heat transferring from the inner frame to the outer frame – and to prevent the cold moving in from the outer to the inner.
Kronos Precision Extrusion is an innovative Singapore-Germany joint ventuer that specializes in developing and producing Thermal Insulating Polyamide Profiles with Cutting-Edge High Precision Thermoplastic Extrusion process and techniques. We offer a range of standard and tailor-made extruded plastic profiles from Virgin Polyamide 66/Polyamide 6 (PA66/PA6 or Nylon 66/Nylon 6) for constructional, commercial, institutional, and engineering applications.
Kronos Precision Extrusion has long-standing experience in achieving the necessary heat or cold insulating properties that create a thermal break inside the system. Our standard offering comprises a great number of available geometries for varying markets and needs. High quality solutions can be created using the insulating profiles in the standard program. Aide from standard profiles, tailor-made profiles also can be rapidly supplied in any length and quantity. Our TOP-NOTCH Specialists will gladly assist you with your project from the planning and development stage up to the finished product.
Ensuring sustainability is at the heart of what we do. For over 20 years, Kronos's innovative, high-precision polyamide 66 based insulation profiles for aluminum doors, windows, facades, and curtain wall systems have helped improve quality and comfort substantially, while delivering energy savings and reducing CO2 emissions across the globe.
When it comes to Thermal Insulation Polyamide Profiles and High Precision Plastic Extrusion, Kronos truly Excels. If you buy Thermal Break Polyamide Profiles from Kronos Precision Extrusion, you'll instantly know just how accurate they are and how precisely they fit together with your aluminum frames.
Product Name: Thermal Insulation Polyamide Profiles, Polyamide Insulating Struts, Thermal Struts, Thermal Break Polyamide Strips, Thermal Barrier Polyamide Profiles

Manufacturer: Kronos Precision Extrusion
Kronos Extrusion Model No.: 148T51
Design: Eurogroove
Main Material: Virgin Polyamide 66 + 25% Pure Glass Fiber
Processing: High Precision polyamide extrusion
Width: 14.8mm
Standard Length: 6 meters/piece or customized
Profile Density: 1.30 ± 0.05 g/cm³
Shore Hardness: 80
Polyamide Strips Color: Black
Standards Carried: European Standard EN 14024:2004 & Chinese GB/T 23615.1-2017
Kronos Extrusion Certification: IATF 16949:2016
Applications: Thermally Broken Aluminum Doors & Windows, Aluminum Profiles, Passive Windows, Energy Efficient Buildings, Green Buildings, Passive House, Sustainable Buildings etc.
Inside View of Kronos's PA66GF25 Thermal Insulating Polyamide Profiles/Thermal Break Polyamide Strips

All batches of Kronos's thermal insulation polyamide profiles are subject to a rigorous inspection process prior to delivery.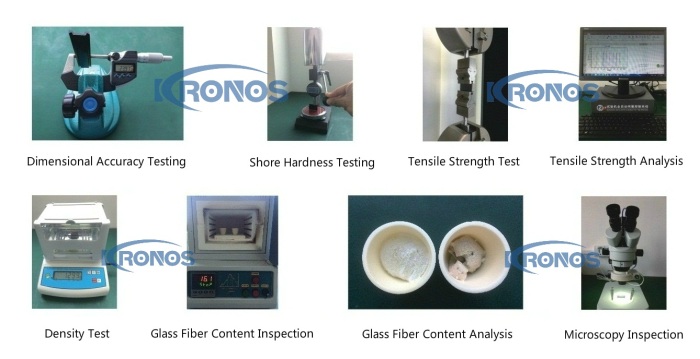 High Precision Extruded Thermal Insulating Polyamide Profiles (Polyamide Strips/Polyamide Struts) ready for delivery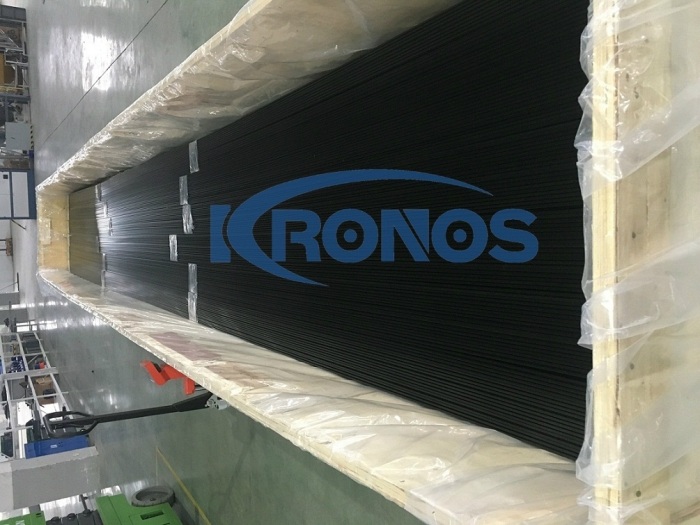 Exchange of Know-How-The Milux Windows and the Kronos Precision Extrusion Team