Overview
Aluminium is massively used in the manufacturing of profiles for the building and construction industry in window, door, facade, and curtain wall systems. The thermal conductivity of aluminium alloy is 160W/M2.K, which makes it a very good conductor of heat. However, the international legislation and building codes are becoming stricter in terms of energy efficiency. The purpose is to reduce CO2 emissions and to save energy. To solve this problem, a thermal break is required.
The thermal broken system consists of two independent aluminium profiles with similar or unlike shapes connected by Polyamide 66 Insulating Strips(Polyamide Profiles) in order to obtain one monolithic profile having low UV factor and low transmission sound. This will minimize heat transfer between the interior and exterior of aluminium doors and windows, which will improve the energy saving much better than traditional systems.
The thermal conductivity of polyamide profile is only 0.3W/M2.K, which is 533 times less than that of aluminium, making it a perfect insulating material for thermally broken aluminum systems. The lower the U value (the thermal conductivity), the better the insulation. Not only that, polyamides have very similar coefficient of expansion and contraction to aluminium. Polyamide Insulating Struts reduce internal aluminum frame stress effectively and will not separate over years of seasonal hot-cold cycles. Water and air will not penetrate this superior thermal barrier.
Kronos Precision Extrusion, the leading developer and manufacturer of Polyamide Insulating Profiles, is playing a significant role in enhancing the Thermal Energy Efficiency of buildings around the world with its high-performance Polyamide Insulation Strips for Thermal-Break aluminium frames.
The use of thermally broken aluminum profiles with Kronos's polyamide strips for windows, doors, facades, and curtain walls offers a considerable improvement in the energy performance of buildings, helping to cut the polluting emissions. Meanwhile, our PA profiles also contribute a massive reduction of energy costs to air-conditioning buildings, whether for heating or cooling purposes.
Kronos Precision Extrusion thrives upon Wide and Complex polyamide extrusions that challenge today's extrusion capabilities. Extrusions others say Can't Be Done are usually just Easy Jobs for us.
The technical know-how accumulated over dacades of experience in supplying PA66 insulating strips to the leading manufacturers of aluminum windows, doors, facades, and curtain wall systems in China and worldwide, enables KRONOS to technically team up with the clients in the development of new highly performing systems, or improving the insulating properties of the existing ones.
Our team has extensive expertise in new product development of thermoplastic extrusions, which allows us to be flexible and quickly adaptable to meet your specific needs. Our manufacturing capabilities span a broad range of products and thermoplastic polymers which makes us the perfect partner for all of your standard and tailor-made precision thermoplastic profiles extrusion needs.
Technical Specifications:
Product Name: Thermal Insulation Polyamide 66 Profiles, Thermal Break Polyamide Strips, Thermal Barrier Polyamide Profiles, Thermal Break Polyamide Struts, Polyamide 66 Insulating Strips

Manufacturer: Kronos Precision Extrusion
Kronos Model No.: 148T06
Main Material: Virgin Polyamide 6.6 with 25% Pure Glass Fiber filled, PA66 GF25
Processing: High Precision Polyamide Extrusion
Width/Depth: 14.8mm
Standard Length: 6 meters/piece or customized
Profile Density: 1.30 ± 0.05 g/cm³
Shore Hardness: 80
Polyamide Strips Color: Black
Packaging: Lineal
Standards Carried: European Standard EN 14024:2004 & Chinese GB/T 23615.1-2017
Kronos Extrusion Certification: IATF 16949:2016
Applications: Thermally Insulated Aluminum Doors and Windows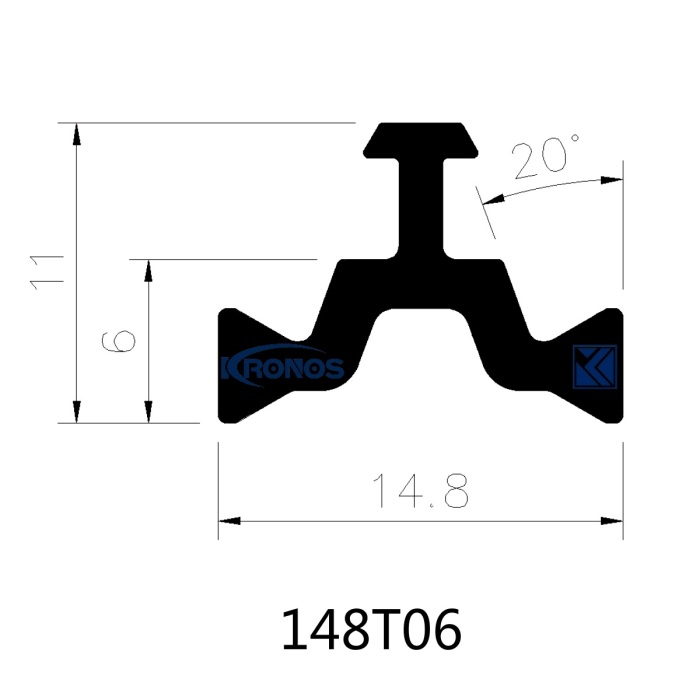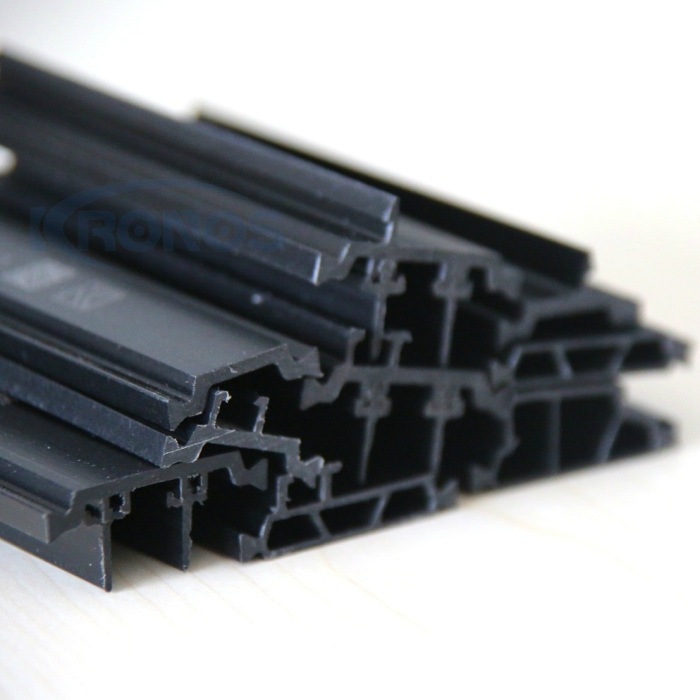 Kronos's Polyamide Insulating Profiles in Comparison with Bad Quality Polyamide Strips

All batches of Kronos's polyamide profiles are subject to a rigorous inspection process prior to delivery.
Kronos offers standard and customed Laser Marking for easier traceability and improved quality control, adding extra value to your products and company.
At Kronos Precison Extrusion, quality is not only a certification, but a philosophy and way of performing that tattooed in all Kronosian's heart. With this in mind, our team keeps in contact with the clients at all times, to make sure all the specifications and requirements are 100% fulfilled in the design and subsequent manufacturing process.
In addition, this is accompanied by a professional consulting service in order to meet all our clients' specific demands. We design and make all our dies as per German Standards and we monitor the whole extruding process, so all paperwork is continuously up-to-date.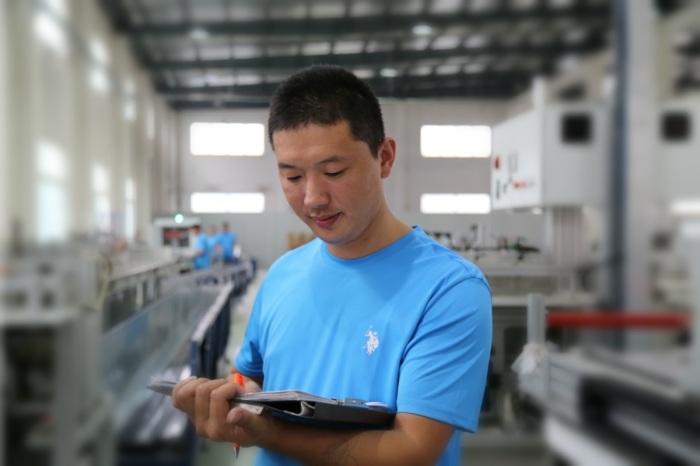 Glass Fiber Reinforced PA66 GF25 Thermal Break Polyamide Strips ready for delivery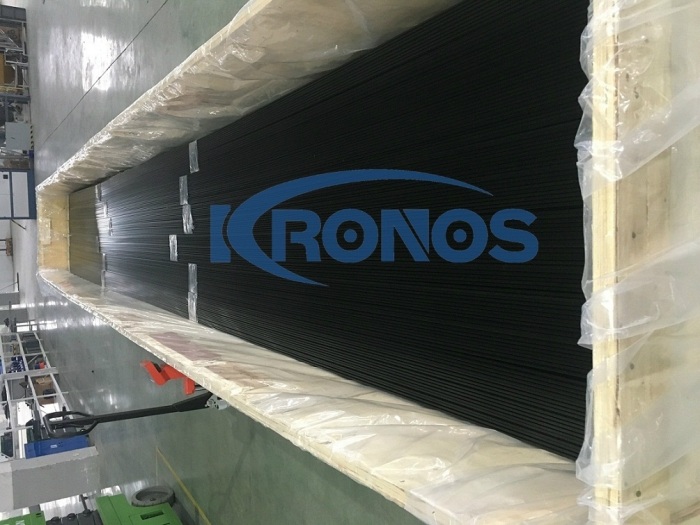 As you learn more about Kronos, you will discover that we are trying to achieve the same thing as you – PERFECTION.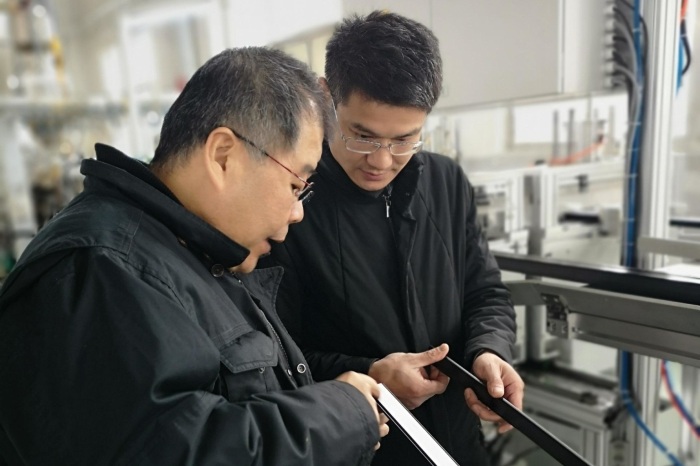 Whatever your thermoplastics extrusion challenges are, the friendly and professional experts of Kronos Precision Extrusion are here for YOU.