Overview
Metal windows and doors (especially Aluminum) have many advantages over wood ones – they are stronger, and because of their structural strength, you can make narrower profiles from them, increasing the amount "glass to frame" ratio. They are also very low maintenance, it won't rot or require re-sealing and treating. But metal windows and doors are not Energy-Efficiency-Friendly. Metal conducts heat (thermal energy) easily and that means that on a hot day a solid metal frame will act like a radiator in your room, and likewise, on a cold day, you will be losing heat outdoors through your frames far more than through the glass. If your room is also humid (a kitchen or bathroom, for example) then many homeowners experience condensation on the windows.
In order to solve this problems, aluminum window, door, and facades manufacturers are introducing an Insulating Barrier between the inside and outside of the window frame. This barrier is what is called "Thermal Break" or "Thermal Strut".
Kronos Precision Extrusion is an innovative Singapore-Germany joint venture that specializes in developing and manufacturing Thermal Insulating Polyamide Strips with Leading High Precision Thermoplastic Extrusion process and techniques. We offer a range of standard and custom-made extruded profiles from Virgin Polyamide 66/Polyamide 6 (PA66/PA6 or Nylon 66/Nylon 6) and other materials for aluminum windows, doors, facades, curtain walls, operating rods, solar panels, automotive sunroof blind rails, and various engineering applications.
The cutting-edge insulation technique used by Kronos Precision Extrusion, connects the outer chamber and the inner chamber through Pure Glass Fiber (25%) reinforced Polyamide Strips. These strips provide a perfect thermal break and come in various widths.
Originating from Germany, with more than 20 years of experience and expertise in the polyamide extrusion and thermal insulating industry, Kronos Precision Extrusion develops and produces the Top-Notch quality and Outstanding High Precision thermal insulation polyamide profiles for various applications.
Technical Data:
Product Name: Thermal Strut System, Polyamide Insulating Strips, Thermal Insulation Polyamide Profiles, Thermal Break Polyamide Strips
Kronos Model No.: 148C01
Material: Virgin Polyamide - PA66 GF25
Processing: High precision polyamide extrusion
Width: 14.8mm
Standard Length: 6 meters/piece
Density: 1.30 ± 0.05 g/cm³
Shore Hardness: 80
Insulating Profiles Color: Black
Applications: Thermally Broken Windows and Doors, Passive House, Passive Windows, Energy Efficient Buildings, Sustainable Buildings etc.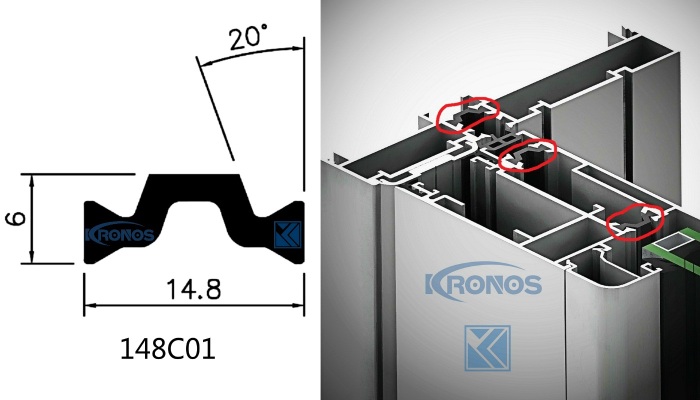 Kronos develops and produces various shapes of thermal insulating polyamide profiles for different industiries applications.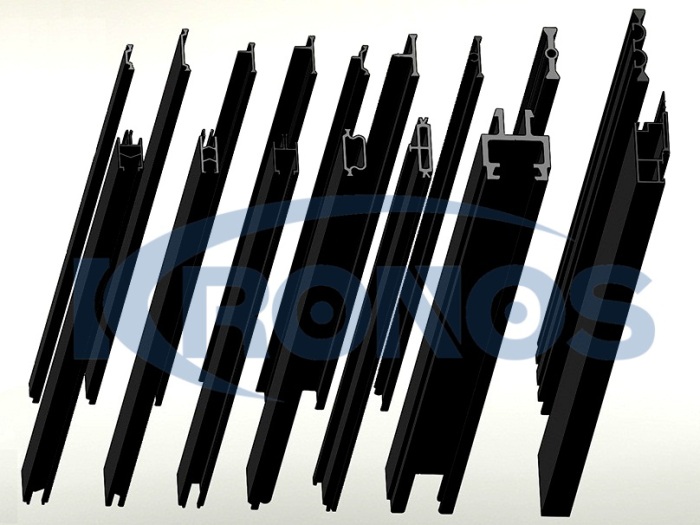 All batches of Kronos's thermal insulation polyamide profiles are subject to a rigorous inspection process prior to delivery.
The Kronos Precision Extrusion team visiting Milux Aluminum Windows