Overview
Kronos Precision Extrusion is the pioneer in the Thermal Insulation System industry. Our portfolio includes design, R&D, and production of Thermal Insulating Polyamide Profiles for aluminum windows, doors, facades, curtain wall systems, and various engineering applications.
Equipped with world-class thermoplastics extrusion experts and cutting-edge extruding machinery, we supply the right polyamide profiles for every type of requirement and offer system manufacturers and processors scope to provide a reliable solution to even the most demanding assignment.
Kronos offers reliable solutions for thermally separated, energy-saving fire protection systems of the kind required in schools, hospitals, offices, shopping centers and other public buildings. Our Glass Fibre-Reinforced Polyamide Profiles feature High Strength with high level of rigidity which are ideal for facade pressure plates or glass holding profiles.
Our High Efficiency polyamide profiles set new standards in thermal separation, permit excellent U values and are the first choice in low-energy and passive buildings.

Technical Specifications:
Product Name: Thermal Insulation Polyamide Profiles, Thermal Break Bar, Thermal Barrier Polyamide Strips, Thermal Struts
Kronos Model No.: 240F01
Material: Virgin Polyamide PA66 GF25
Processing: high precision polyamide extrusion
Width: 24mm
Standard Length: 6 meters/piece
Density: 1.30 ± 0.05 g/cm³
Color: Black
Standards: European Standard EN 14024:2004 & GB/T 23615.1-2017
Certification: IATF 16949:2016
Applications: Thermally Broken Aluminum Windows and Doors, Passive House, Energy Efficient Buildings, Passive Windows, Sustainable Buildings etc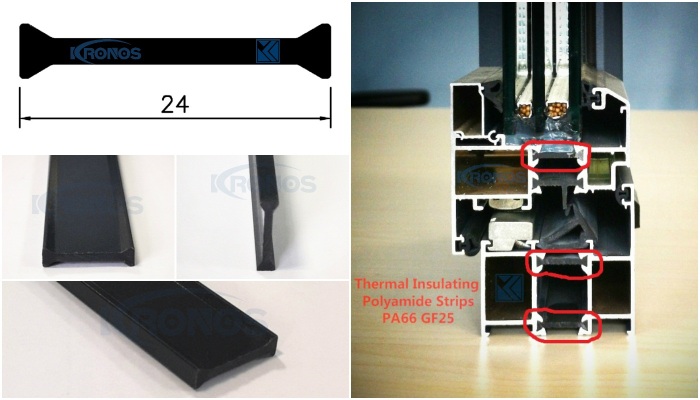 Facts speak louder than words. Below is a test report of our PA66-GF25 Thermal Insulating Polyamide Profiles. This Test/Inspection is carried out strictly according to the latest Chinese GB/T 23615.1-2017 standard, which is the current Highest-Demanding standard for the Thermal Insulation Polyamide Profiles in the international communities. By the way, there are ONLY TWO companies who are capable of meeting this standard in the world, and Kronos Precision Extrusion is ONE of them.






All batches of Kronos's thermal insulation polyamide strips are subject to a rigorous inspection process prior to delivery.




Kronos's Polyamide Profiles are of Top Quality even you check them inside thoroughly.




Why Kronos Precision Extrusion?


Great experience and expertise in the R&D and production of Thermal Insulation Polyamide (Nylon) Profiles

Deep understanding of energy-saving aluminum windows, doors, and facades

High-Precision polyamide profiles with tightest tolerance

Wide and Intricate polyamide profiles extrusion capabilities

Solid and Comprehensive Quality Control

World-Class specialists, state-of-the-art extruding machinery, process, material and technical know-how

Multi-National Experts in R&D, manufacturing, techniques, applications and services

Immediate-Family-Like Care & 100% Satisfaction Guaranteed

Competitively priced

On-Time delivery





The Milux Windows and the Kronos Precision Extrusion Team